BMW Lifestyle is expanding its urban scooter offering with an electric model, the imaginatively-named E-scooter.
E-scooters, or micro-scooters, are becoming increasingly popular, despite the fact that in the UK, they are classified as Personal Light Electric Vehicles and cannot be used on public roads or pavements – in fact the only place you can use them legally is on private land.
A review of the law seems possible considering that the tiny electric motors on these scooters are very eco-friendly – however, this means the scooters would probably have to be registered, taxed, and riders would have to wear helmets.
None of this is putting off BMW's plans for the E-scooter, designed in co-operation with Micro mobility Systems, inventor of the Microlino electric car.
The new BMW E-Scooter has a range of twelve kilometres (7.5 miles) and a top speed of 20 km/h (12 mph). It has two separate braking systems and embedded front and rear lights, yet weighs only 9kg. Folded, the 150-watt motor and lithium-ion battery slip away almost out of sight into the footplate and rear wheel, making the E-Scooter easy to carry. Battery charging takes two hours.
The low footplate with integrated kickstand and the large wheels are designed to offer ride comfort.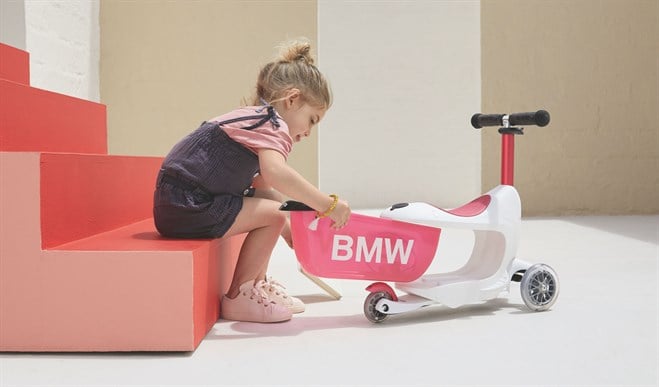 A non-electric model, the City Scooter, is also in the works, as is the Kids Scooter (pictured), intended for children aged three to 12, which has a seat which opens to reveal storage space. The seat can be taken off and the height of the handlebars adjusted as the rider gets taller.
Prices will be around £799 for the E-Scooter, £199 for the City Scooter and £99 for the Kids Scooter, when they go on sale in September.
Australian pricing and availability to be confirmed.
---