GoPro is having another crack at trying to grow market share in the action camera market only this time they are targeting vBloggers with a new Hero 8 Black camera that has add on attachments.
A onetime darling for consumer electronics retailers, this time round analysts are saying that the struggling US Company will have a tough time up against a new range of smartphones that bloggers are using to get their message out.
While GoPro remains the bestselling action cam brand in much of the world as well as Australia Chinese brand DJI has started to strip share away from Go Pro in several markets especially with their steady cam mounts.
The impact of declining demand and competition from cheap action cams and DJI has seen Go Pro report loss in its last two quarters.
During the past 12 months the Company has been chewing up cash reserves which have shrunk from US$114.8m to $91.2m, while at the same time their share value has dropped 30%.
One analyst warned it could face further problems if consumers do not take to the new camera.
On the upside GoPro shares rose more than 6% last night after the new camera announcement.
The company's new Hero8 Black camera will sell for $599 in Australia Vs $399 dollars in the US with many Australian consumers ordering from US online sites such as Amazon because of the high Australian price for Go Pro products.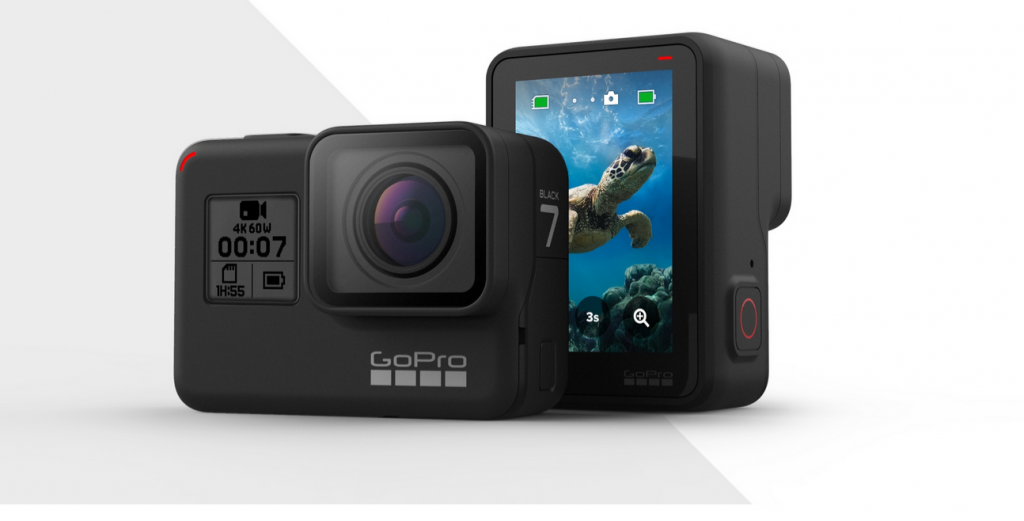 According to Go Pro the new device has better wind suppression and audio making it ideal for bloggers.
The company announced Hero8 Black modular accessories, that deliver professional-grade audio (Media Mod: AUD$139.95), a front-facing display (Display Mod: AUD$139.95) and enhanced lighting (Light Mod: AUD$84.95) – allowing users to transform their camera into a production powerhouse. These Mods will be available to preorder from GoPro.com in December. In the USA the
In addition, GoPro is launching a new GoPro Max dual-lens camera with four digital lenses, including an ultra-wide lens. GoPro plans to hold a "launch-related product and financial conference call" on Oct. 2 at 2:30 p.m. Pacific time. The stock is up 44% in the past month on the news.
Some of the neat new capabilities of the Hero 8 camera is that it includes built-in mount connectors that are magnetic, so they stay folded away when not in use.
In addition, Go Pro claims they have further improved in-body video stabilisation, which is now available for all video frame rates and resolutions. And it has added a new feature to its Time warp mode – which creates smooth sped-up footage – to automatically adjust the footage's speed dependant on the rate of the camera's motion and the lighting conditions.
Owners can also shoot video at up to 100 megabits per second – up from 78 Mb/s previously – which should deliver higher-quality images.
According to users last year's GoPro launch – the Hero 7 Black – delivered a vast improvement to in-body stabilisation, leading its chief executive to claim it was a "gimbal killer "- a reference to the fact it did not require add-on equipment to produce smooth footage.
Reviewers recognised this to be a significant upgrade, and the company reported the model had achieved its strongest-ever first month sales to date.
"If retailers are unable to work through their existing inventory prior to GoPro's new product launch, its new product launch may be cannibalised by a substantially discounted Hero 7 Black during the upcoming holiday period," Alicia Reese from Wedbush Securities told the BBC.
At JB Hi Fi the Hero 7 is selling for $498 some $300 cheaper than the new model.
One of the problems the firm faces according to analysts is that smartphones are making significant strides forward of their own, including multiple lenses, the ability to blur the backgrounds of photos and sometimes videos, and the use of machine learning algorithms that vastly improve low-light shots and stabilisation.
"In terms of quality, it's now difficult for action cams to offer anything that a smartphone can't do," said one observer.
Another issue facing Go Pro is that smartphones have gained waterproofing, which has helped encourage people to use them in situations that they might previously have turned to a GoPro.
Retailers that ChannelNews has spoken to believe that GoPro has reached the limitations of the hardware it has created which is why the Company is moving try and sell accessories which can also be mounted around a smartphone.
In addition, most new smartphones deliver bigger screen displays.
Alicia Reese said there should still enough demand for the GoPro Max to justify its existence from a group of professional and enthusiast film-makers.
"I don't think these were ever expected to be mainstream products [and they] were never mass-produced," she commented.
---