Forget 8K, 24 hours after a US Hedge fund was calling for a break up of Sony the Japanese Company has rolled out a 16K TV screen but you have to have a big living room to accommodate it.
The 63ft by 17ft (19.2m by 5.4m) screen is currently being installed at a new research centre that has been built for the Japanese cosmetics group Shiseido in the city of Yokohama, south of Tokyo.
It is so large it will stretch between the first and second floors, the bad news is that it will take decades for 16K tech to filter down to consumer products.
Described as the biggest 16K screen of its kind the new TV screen is tipped to be used to during next year's Olympics in Japan which is being broadcast in 8K.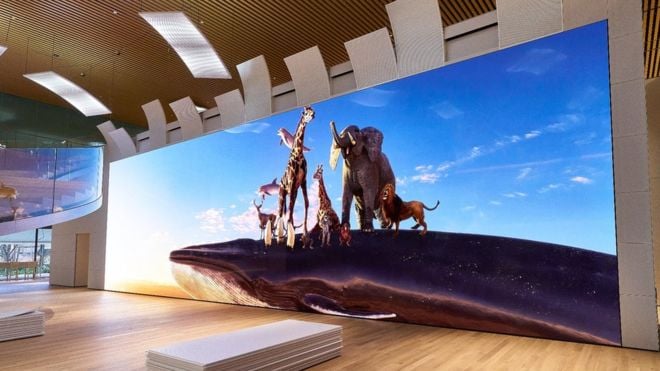 Sony's display contains 16 times as many pixels as a 4K television and 64 times as many as a regular 1080p high definition TV, meaning it can show images in far more detail than normal.
This will let viewers stand close to the unit – which is longer than a bus – without its image looking blurred.
The development was announced by Sony at the National Association of Broadcasters (NAB) trade show, which is currently being held in Las Vegas.
"We're moving slowly towards 8K TVs at the end of the decade and who knows how long it will take to get beyond that, so 16K is likely to be limited to the corporate world for the time being," commented David Mercer from the consultancy Strategy Analytics.
---