Garmin International have launched its new and sleek GPS golf watch, the Approach S62, which integrates critical course information and full-colour mapping right on the wrist.
The Approach S62 is available now with a RRP of US$499.99 from the Garmin International website.
With its sunlight readable 1.3-inch colour touchscreen – 17% larger that the previous model – and scratch resistant ceramic bezel, the Approach S62 delivers an easier-to-read and larger display.
It boasts an array of features that help enhance a golfer's game, including options like PlaysLike Distance, Hazard View, as well as a Virtual Caddie that analyses critical factors such as wind speed, course layout, and a golfer's past swings to select the best suited club for each shot.
In terms of the features, the Approach S62 shines in its precise ability to help strategise and fine-tune a golfer's game.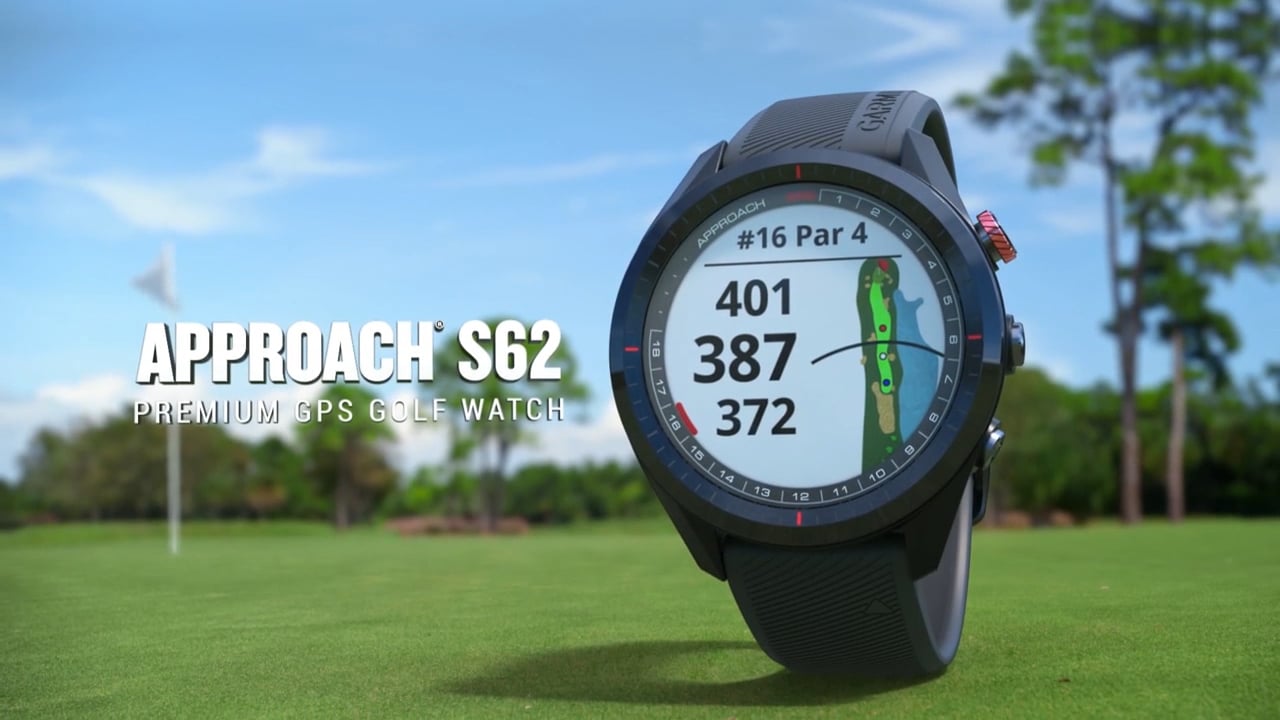 When golfers are stranded with a blind shot and unable to see the pin, the Approach S62's PinPointer option shows the exact direction to the pin. The watch uses the PlaysLike Distance option to adjust yardages to compensate for uphill and downhill shots, and with Hazard View, golfers can quickly scroll through each hazard on the map to acquire critical distance information and know exactly what to avoid during play.
Thanks to the Green View feature, no matter where the player is on the course, the watch will display each green's true shape and allow golfers to drag-and-drop the pin for better yardage accuracy.
Additionally, the Approach S62 utilises an Autoshot round analyser to measure and record detected shot distances. This efficient game tracking feature can also be paired with optional Approach CT10 club tracking sensors to boost game tracking details.
Also, offering a deep feature set that goes beyond the golf course, the Approach S62 boasts enhanced wrist-based heart rate monitoring to display the intensity of a user's fitness activities. To better gauge an individual's overall health and fitness levels, a Pulse Ox sensor is implemented to estimate blood oxygen saturation levels.
"The Approach S62 gives golfers access to essential golfing information like no other watch on the market with a style that goes beyond the clubhouse," said Dan Bartel, Garmin vice-president of Global Consumer Sales.
"Thanks to our new built-in Virtual Caddie and detailed course maps, the Approach S62 has the power to instantly transform into a caddie that knows you and 41,000 courses worldwide."
Avid players can gain even more insight into their game after pairing the Approach S62 with the Garmin Golf app for access to the new golf performance widget.
Stats are calculated in the app and then sent to the watch so users can review handicap index, fairway and approach shot hit/miss percentage, and green in regulation percentage. The app even provides analysis for strokes gained and allows users to participate in leaderboards and tournaments with other players around the world.
Golfers can also take advantage of the Approach S62's longer battery life, which can last up to 20 hours in GPS mode and up to 14 days in smartwatch mode.
Also, thanks to Garmin's Quickfit bands, the look of the watch can easily be altered and remain colourful in style with leather, silicone, nylon or titanium options.
---