Garmin has launched its rugged smartwatch line, the Fenix 6 Series, all designed for outdoor adventurers and includes the company's first crack at a GPS smartwatch with solar technology, the 6XPro Solar.
Along with the Fenix 6XPro Solar, other devices in the lineup include Fenix 6S, Fenix 6 and Fenix 6X.
According to Garmin, the new Fenix 6 series focuses on enhancing users' outdoor experience and includes Power Manager for longer battery life, allows runners to compensate for elevation changes with new PacePro technology, and introduces the largest round display from Garmin.
In terms of solar technology, the Fenix 6XPro Solar is designed with "Power Glass", which is a transparent solar charging lens that uses the sun's energy to extend battery life.
"We are thrilled to introduce solar charging into the new Fenix 6XPro Solar edition, giving users all of the features they've come to expect from the Fenix lineup with increased battery life and larger displays," Dan Bartel, Garmin vice-president of global consumer sales, said in a statement.
"In addition to our brand-new solar technology, we've built the Fenix 6 to redefine expectations, with enhanced features and design elements to appeal to adventurers of every kind."
The unique solar charging technology ensures more on-wrist time for users, thus, increasing battery performance to an additional three days when utilising the solar charging capabilities.
Battery performance on the Fenix 6XPro Solar in smartwatch mode is 21 days, plus an additional three days when utilising the solar charging capabilities.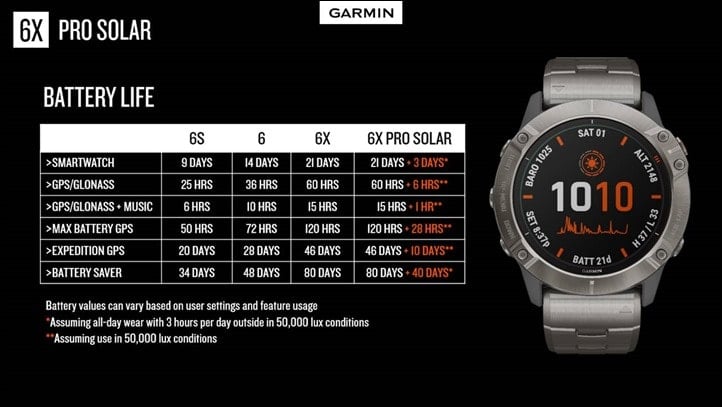 "We are thrilled to announce the new solar edition in the Fenix series, which will be a game changer in the smartwatch industry," Ali Rizvi, national sales manager, Garmin India, said in a statement.
"The increased battery life, stylish built of the watch and the enhanced features will certainly appeal to fitness enthusiasts and athletes, fulfilling their need for error-free statistics."
Currently, the Fenix 6 Series is only tipped to be released in India, though things could change.
---