JB Hi-Fi has intensified retail competition for Lenovo's new Smart Display, by offering a free Google Home Mini to pre-order buyers before October 19th.
The retailer has also pledged a 'lowest price guarantee' to drop its price should cost shift before release.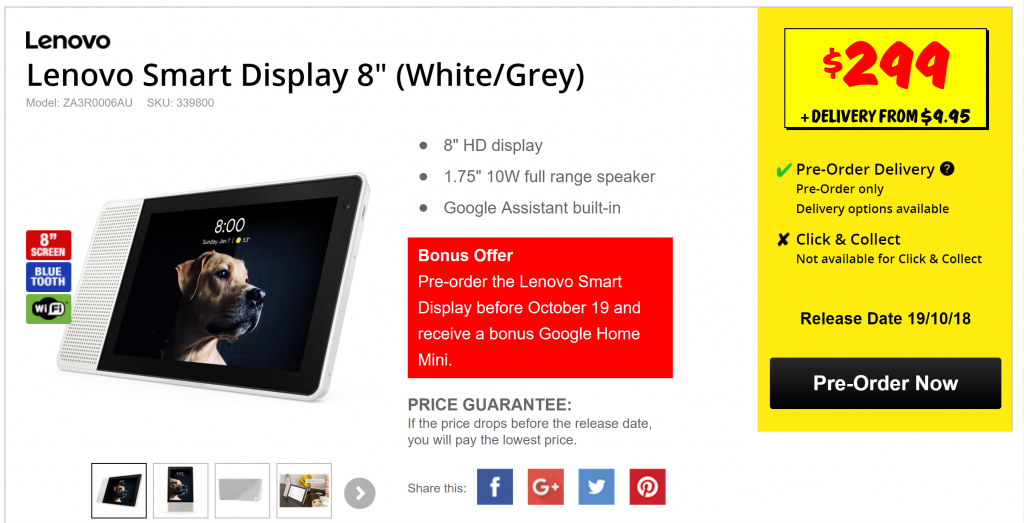 Lenovo's Smart Displays are among the first Google Assistant-powered touch screen devices to land in Australia, taking on the likes of Amazon's Echo Show, JBL 's Link View and Google's rumoured 'Hub'.
The Smart Displays are available to pre-order in an 8-inch model [1280×800 resolution] for A$299 or a 10-inch model [1920×1200 resolution] for A$399.
The devices are hybrid smart speakers with touch screen functionality, enabling users to trigger visual commands using their voice.
Watch the product in action below:
Both models are powered by Qualcomm's 1.8GHz Snapdragon processor, with 2GB RAM and 4GB storage.
Dual microphones and a 10W speaker aim to facilitate easy video chatting/conferencing, coupled with a 5MP front camera.
For added privacy, the camera can be covered by a manual cover switch when not in use.
Further information and full specifications are available on Lenovo's website here.
---