Following its unveiling at CES 2019, Hisense's 100-inch laser 4K TV with an innovative dual laser projector and all in one speaker system, will soon land in Australia for A$19,999.
Available from JB Hi-Fi, The Good Guys and Harvey Norman, Aussies are set to get their hands on the 100-inch 4K Ultra HD smart dual-colour Laser TV at the end of September.
Hisense offers delivery to metro areas, with "white glove" installation that includes display calibration.
Consisting of only three components – the projection console, a subwoofer and the screen – the Hisense 100 is a minimalists dream.
Fourteen separate JBL Cinema Sound powered speakers delivering 110 watts of sound are built into the central unit to pair with the included subwoofer.
The innovative television utilises a short-throw projector featuring a 'proprietary X-Fusion Laser Light Engine' to shoot out high-definition movies and TV shows onto a massive 100-inch screen only 20cm away.
Compared to a standard projector sitting a few metres away, the shorter distance removes fuzziness and ensures clarity in darker conditions.
Hisense claims the dual laser bulb behind the projector will last for 25,000 hours before reaching its half-life, or roughly eight and half years of eight hours of viewing a day every day.
However daytime viewing may be strained if positioned in direct sunlight, despite the screen's anti-glare surface structure.
A neat safety feature included will automatically switch the 3000 lumen light off if it detects that you're too close; perfect for curious children.
The massive screen boasts a refresh rate of 200Hz up to 60 frames a second, as well as HDR10 support.
App availability may be limited, however, as the operating system is the previous version of the Hisense VIDAA U (v2.5).
Hisense first began developing Laser TV systems in 2007, with its first model launching in 2014.
The Hisense 100 marks the fifth generation in the Laser TV line up, with overseas sizing from 80 to 150-inch models.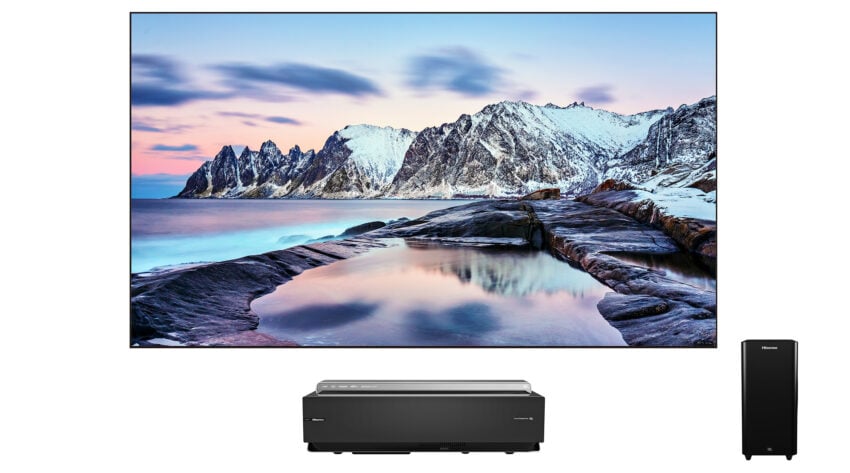 ---