HP has issued a warning to its customers and has recalled a number of its notebooks batteries as they have the potential to overheat, posing a fire and burn hazard to its customers.
Products affected include HP Probook 64x (G2 and G3), HP ProBook 65x (G2 and G3), HP x360 310 G2, HP ENVY m6, HP Pavilion x360, HP 11 notebook computers and HP ZBook (17 G3, 17 G4, and Studio G3) mobile workstations sold worldwide from December 2015 through December 2017. They were also sold as accessories or provided as replacements through HP or an authorized HP Service Provider.
HP says, "Many of these batteries are internal to the system, which means they are not customer replaceable. HP is providing battery replacement services by an authorised technician at no cost. HP is also providing a BIOS update that places the battery in Battery Safety Mode so that the notebook or workstation can be safely used without the battery by connecting to an HP power adaptor. Batteries affected by this recall should immediately be put into Battery Safety Mode."
"Battery Safety Mode is only applicable to HP products affected by this recall. If the validation process identifies a battery as being eligible for replacement, the BIOS update should be applied and the system should be rebooted. During the reboot process, an option will be presented to enable Battery Safety Mode. Accepting Battery Safety Mode causes the battery to discharge and to cease future charging until Battery Safety Mode is disabled. HP strongly recommends accepting Battery Safety Mode so that the notebook or mobile workstation can be safely used by connecting to an HP power adaptor."
Not all of these products could be affected but HP highly recommends to check through a useful tool, the HP Battery Program Validation Utility.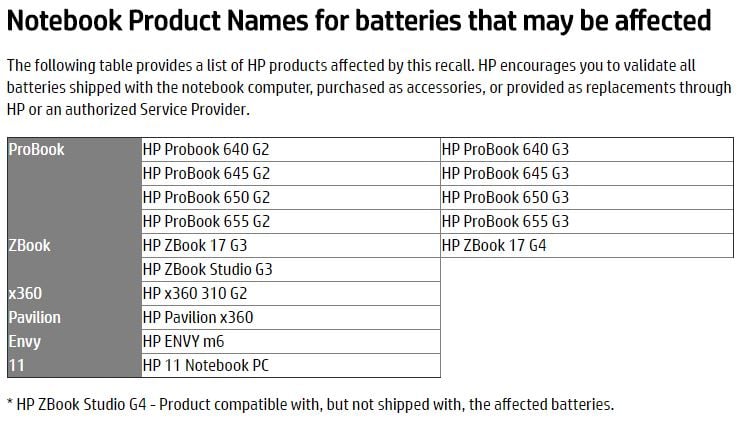 ---