Sony appears to have bungled its IFA 2019 reveal of a new Xperia smartphone by accidentally live-streaming a portion of its presentation which reveals the new device ahead of time.
The Sony presentation is scheduled for today at 1pm Berlin time (9pm AEST), but what appears to have been a mistake during a trial run, the conference began live streaming on YouTube.
Some viewers, including David Baptista da Silva, managed to take screenshots and upload them to other social media before Sony stepped in and took the video down.
The Xperia 5 (the rumoured "Xperia 2") will be available in Europe in October. Pre-orders start next week.
Still oversized.
Has full wireless DualShock 4 support, exclusive for Xperias 1 and 5.
Comes in black, blue, white and magenta.

cc. @XperiaBlog pic.twitter.com/ebuUJ3awUa

— David Baptista da Silva (@DBaptistaSilva) September 4, 2019
It was thought Sony would use IFA 2019 to debut its Xperia 2 device, but according to the leaked presentation the new device appears to be named the Xperia 5, featuring an HDR-capable OLED display with a 21:9 screen ratio.
ChannelNews was first to report Sony exiting the mobile market in Australia earlier this year after the company repeatedly denied that it would.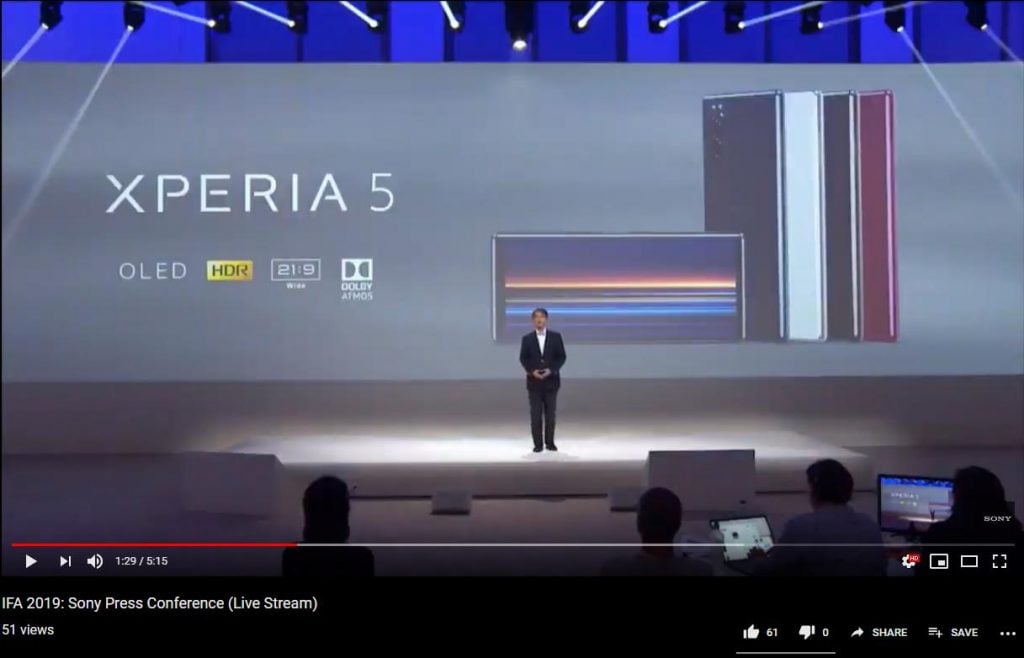 ---