LG-Electronics Australia has released its highly-anticipated world-first 88-inch LG Signature OLED 8K television coming to selected Harvey Norman stores this October for the premium price of $59,999.
Unveiled outside the Museum of Contemporary Art Sydney, Angus Jones General Manager of Marketing at LG Electronics Australia claims it is 'the best visual and true-to-life experience' available on any 8K TV.
The model 88Z9 will be the second 8K model to join LG's 2019 lineup alongside the NanoCell 75 inch TV (model 75SM99).
Harvey Norman will be the first retailer to bring the TV to market, with Executive Director David Ackery expressing his excitement over the launch saying, "these TVs just keep getting more innovative and special year-on-year" though the Signature 8K TV won't be for every Australian consumer at that price.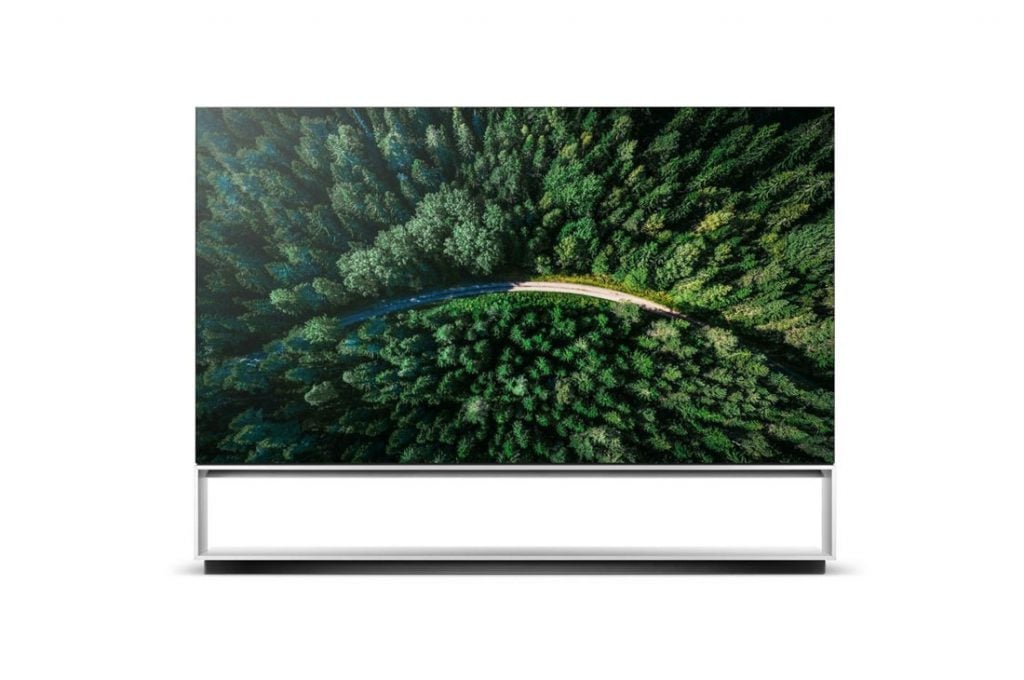 The industry-leading OLED technology eliminates the need for a backlight; therefore, each of the 33-million pixels can turn on-and-off where light is required to produce 'perfect' blacks on screen.
Powered by the Alpha 9 (α9) Gen 2 Intelligent Processor, the new TV will combine a six-step up-scaling and noise reduction process to produce a 'hyper-realistic, sharp, vivid and detailed picture', applicable to all SD, Full HD and 4K content.
Coupled together with LG's deep learning technology, the inbuilt ThinQ artificial intelligence (AI) optimises the viewing experience based on the source content and the ambient conditions present in the room.
A winner of this year's iF Design Award and the Red Dot award for product design, the LG OLED 8K TV sports a minimal design, with a brushed aluminium stand.
Built inside the stand is an integrated 80W sound system, with an included subwoofer.
LG is pushing the OLED TV as "real 8K", surpassing the criteria of the Information Display Measurements Standard (IDMS) for 8K resolution informed by the respected International Committee for Display Metrology (ICDM).
Citing its Contrast Modulation numbers which measure whether neighbouring pixels can be distinguishable from another.
For a television to be considered 8K, the CM must be above 50%.
LG is currently hitting 90% CM on both its brand new LG OLED 8K TV and the previously released LG NanoCell 8K TV.
"It's more than just a TV with an increased number of pixels and perfect blacks; it also delivers all of the latest display technologies consumers would expect and want."
LG is, therefore 'future-proofing' their TVs for the explosion of 8K content expected in the coming years.
Looking towards 8K gaming content, the LG 8K OLED supports high frame rate (HFR) from 60 frames to 120 frames per second.
LG has even teamed up with NVIDIA to bring support for G-SYNC to selected LG OLED models in 2019 (model 65/55E9 and model 77/65/55C9) to deliver a gaming experience without flickering, tearing or stuttering.
Enhancements continue with Cinema HDR technology support for Dolby Vision, HDR10 Pro and Advanced HDR by Technicolor for the cinephiles.
The 88 inch OLED is also a smart device, with built-in support for the Google Assistant, with compatibility for Alexa and Apple AirPlay 2, as well as HomeKit integration, to be applied through a software update in Q4.
The LG OLED 8K TV operates the webOS 4.5, controlled via the LG Magic Remote that uses a virtual cursor to launch applications.
In combination with Gracenote, LG will also provide Australian webOS users with extra content details.
"The LG OLED TV category continues to go from strength to strength in the Australian market, setting a benchmark for quality home entertainment experiences in the home."
LG expects the demand for OLED TVs to expand to 7 million in 2020 and 20 million in 2021.
---