Bose has delivered a major blow to Sonos releasing a premium networked speaker and soundbar that is set to compete head on with Sonos who last month floated on the US stock exchange in an effort to raise capital.
There are three products in the new Bose networked sound range and all will ship with Alexa voice support, with "other voice assistants to follow" according to Bose executives. Each has an eight-microphone array for far-field voice recognition with the US company claiming that AirPlay 2 functionality will be added in early 2019.
Called the Bose Home Speaker 500 the top model comes with a small display so that you can see what content is being played. Bose claims the new 500 speaker delivers "the widest soundstage of any smart speaker available today."
The new speaker is encased in aluminium which houses two custom drivers that "point in opposite directions".
Bose have designed it this way so that the sound reflects off surrounding walls, separating instruments to the far left and right, and placing vocals where the artist did."
On the top of the device are several buttons for controlling playback. There are also six pre-set numbers for accessing your favourite playlists, internet radio stations and your own content.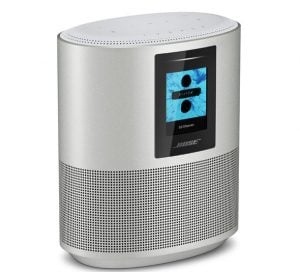 You can not only mute Alexa voice there is also a jack for plugging in headphones.
Six weeks after Sonos released their small struggling Beam Soundbar, Bose has released a premium 700 soundbar. All of the new Bose products are set to be on sale at JB Hi Fi by the last quarter with staff set to recommend the Bose offering over the Sonos offering due in part to Sonos moving to sell online in competition with their retailers.
Bose engineers claim that the 700 "was engineered to outperform every other product in its category. Measuring 5 centimetres high, 10.1 centimetres deep, and 96.5 centimetres long, there's a metal grille running around it with a tempered glass plate on top.
The cheaper version of the new Bose offering is the 500 Soundbar.
This device is smaller, thinner, and has a matte finish. Both of the Bose soundbars include HDMI ARC support.
They also feature Bose's "ADAPTiQ" tech for automatically making audio optimizations based on a room's sound characteristics. Last, Bose says they "can be wall-mounted or expanded with a wireless bass module and rear speakers for a full 5.1 experience."
The release by Bose of a competing product range is bad news for Sonos who are facing a backlash from analysts who see several audio brands now delivering superior networked audio products to the US Company.
Bose claim that their speakers "work brilliantly alone or together as a multi-room system," which is another clear indication of what competitors Bose has in mind.
Multi-room playback isn't new for Bose; the company's home speakers have been doing it for a while. But this is the company's latest push to go up against Sonos, Amazon, Google, Apple, and other companies that offer the capability with their speakers.
---