Netgear has expanded its range of next-gen Wi-Fi 6 routers, adding two new routers, including one it claims can support up to 12 streams at once, without lag or disruption.
Netgear's expanded Wi-Fi 6 routers portfolio now includes the Nighthawk AX4 4-Stream AX3000 ($399.99), and Nighthawk AX12 12-Stream AX6000 ($799.99), joining the previously announced Nighthawk AX8 8-Stream AX6000 ($599.99).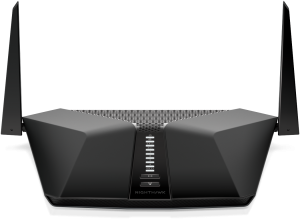 According to senior vice-president of Connected Home Products for Netgear, David Henry, Wi-Fi 6 is the most significant change to the Wi-Fi standard in over six years.
"Wi-Fi 6 will make the world of IoT much more sustainable due to the expansive bandwidth it will deliver to a network," Henry added.
The new Nighthawk AX4 features combined Wi-Fi speeds up to 3Gbps and an AX optimised dual-core processor that can power smart home automation, buffer-free 4K UHD streaming and online gaming.
The four-stream Wi-Fi comes with up to 600Mbps+2400Mbps for ultra-fast wireless speeds, and Netgear has included onboard amplifiers for improved network coverage in medium-sized homes.
Also joining Netgear's Wi-Fi 6 Router range is the Nighthawk AX12, a 12-stream router offering combined Wi-Fi speeds up to 6Gbps and an AX optimised 64bit 2.2GHz Quad-core processor.
The company claims the AX12 is the only router providing eight streams on 5GHz, and can deliver uninterrupted streaming of 4K/8K UHD.
According to Netgear, it delivers improved range and reliability with all devices and the built-in 5Gbps.
The AX12 also includes the ethernet port aggregation features found on the previously announced Nighthawk AX8, which the company claims can deliver multiple Gbps internet speeds through aggregation of ethernet ports.
Those speeds are unlikely to be achievable for the average Australian consumer until local networks catch-up.
The Nighthawk AX8 also offers combined Wi-Fi speeds up to 6Gbps and comes with eight Wi-Fi spatial streams – four in the 2.4GHz band, and four in the 5GHz band.
The company claims capacity of four times more than typical 2×2 AC Wi-Fi.
"The enhanced capacity of Wi-Fi 6 will ensure that consumers experience great performance across all their devices even as those devices demand more data from even richer media services," said David Watkins, director, Intelligent Home Group for Strategy Analytics.
Netgear's new router range is available now from a variety of retailers including JB Hi-Fi and Harvey Norman.
---