Netgear has announced Australian availability of its next-gen wireless router Nighthawk AX8 8-Stream AX6000 Wi-Fi Router (RAX80), available now for $599.99 RRP.
The router is based on the new standard Wi-Fi 6, 802.11ax technology, which aims to increase the capacity of a home network to accommodate the multiple smart home devices, streaming services and online gaming that Australians engage with on a daily basis.
Netgear is positioning its new Nighthawk AX8 router as the ideal choice for the next-gen AX WiFi.
The Nighthawk AX8 can support multiple mobile devices and smart TVs that are streaming videos or music, as well as the increasing number of Internet of Things products (IoT) such as IP cameras, smart speakers, and smart appliances that are now common in many Australian homes.
It is backwards compatible with all Wi-Fi devices and works in both the 2.4GHz and 5GHz band.
The 8-stream router offers up to 1.2 + 4.8Gbps wireless speeds with sic gigabit ports to connect wired devices directly for decreased lag and uninterrupted file transfer.
The router features quad-core 1.8GHz processor, 2Gbps wired connectivity with the option to aggregate two ethernet ports for more than one-gigabit internet speed and supports 160MHz bandwidth.
Instead of having to manually adjust the router's antennas, AX8's antennas come pre-optimised for optimum WiFi performance and are hidden in its spaceship-like wing design.
It can be controlled remotely via the NETGEAR Nighthawk App and via voice control with compatibility with Amazon Alexa and Google Assistant.
"Nighthawk AX8  delivers super-fast Wi-Fi with better coverage and, more importantly, has the power and capacity to handle the dozens of devices in the typical congested smart home," said David Henry, senior vice president of Connected Home Products for NETGEAR.
The Nighthawk AX8 8-Stream AX6000 Wi-Fi Router (RAX80) is available now online and in-store from authorised NETGEAR partners and resellers at an RRP of $599.99.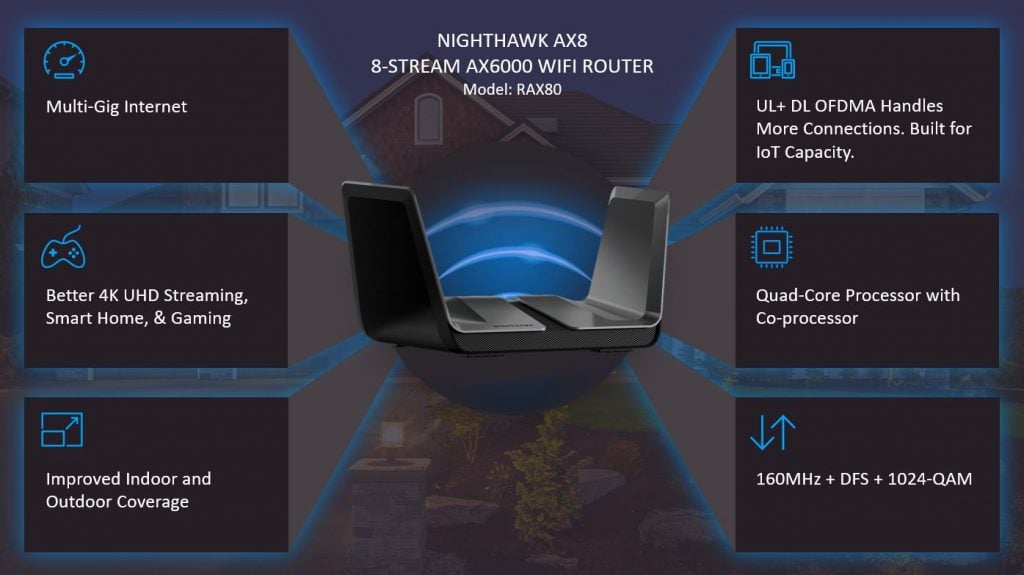 ---