The new D-Link high powered Covr seamless wi-fi mesh network router sets a new standard for home networking not just because of its performance it's also a stylish piece of kit which retailers should find easy to sell to home conscious consumers.
What's a critical investment for any home today is networking. It's what delivers better and faster information to a mobile or tablet, superior picture quality to a TV while allowing multiple connections and faster streaming of content from the likes of Spotify, Apple Music or Google.
The tri-band D-Link Covr-2202 – which can provide consistent whole home wi-fi coverage, for example if you are investing in the new Foxtel 4K real time sport channel and the related 4K content you will need a new 4K TV.
But if you combine this with a new mesh network router such as the new D-Link Covr-2202 who will get the best of both worlds. 4K real time Foxtel sports content delivered over a fast Satellite feed and other networked content streamed to your TV.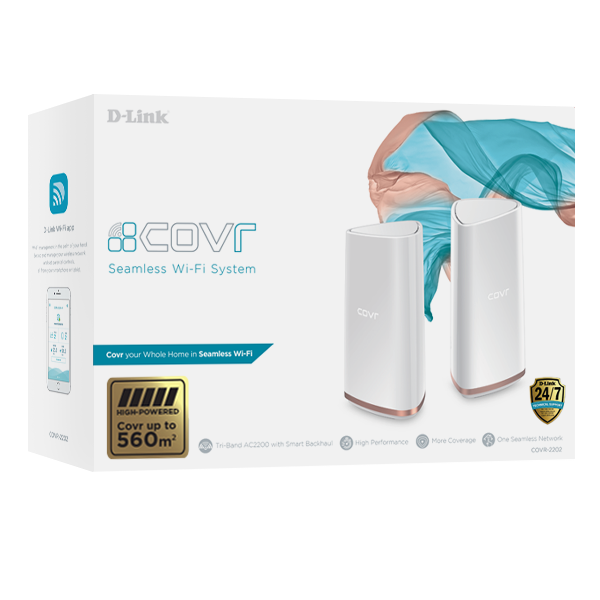 The new Covr-2202 is a follow-up to the recently launched Covr-C1203 dual band wi-fi mesh system and is also a scalable solution which in the future will allow you to use the extenders from both D-Link devices to extend the Wi Fi reach in your home.
The latest Covr-2202 is comprised of two taller units which can deliver blanket wireless coverage to an entire home.
This new tri-band AC2200 system features a dedicated 5Ghz smart backhaul which means there are two bands connecting to devices in your home and the third band connecting back to the router and satellite units rather than crowding the other two bands and slowing you down.
The inclusion of Smart Steering technology automatically directs devices to the optimal wireless band while Smart Roaming connects users to the strongest signal as people connected to the D-Link network move around their home.
The Covr-2202 system also includes MU-MIMO (multiple user – multiple input multiple output) technology for an even faster and more efficient wireless network.
The two Covr units have six built in vertical and horizontal antennas that optimises the connectivity between points.
Also onboard are two Gigabit Ethernet ports to also provide high-speed wired connectivity.
The D-Link Covr-2202, which won a CES Innovation Honouree Award earlier this year, is available now and is priced at $499.95 ($NZ549).
The Covr-C1203 is priced at $399.99 ($NZ449).
---