Nikon has unveiled its first crop-sensor mirrorless camera boasting full-frame 4K video capture and silent photography, alongside the newly announced Nikkor Z DX lens range, explicitly designed for the new camera.
The Nikon Z 50 is compact, lightweight mirrorless camera that features an ergonomic body design inspired by the Z series of cameras.
There is currently no Australian pricing available, however, Nikon USA has the Z 50 starting at $999.95 with a wide-angle lens.
The two NIKKOR Z lenses announced by Nikon include the 16-50mm F/3.5-6.3 VR wide-angle lens and the NIKKOR Z DX 50-250MM F/4.5-6.3 VR telephoto lens.
The Nikon Z 50 can be bundled together with both lenses for $1,349.95.
The lens mount features a larger 55-mm opening for increased exposure, with only 16 mm between the mounting and image sensor.
Coupled with a maximum ISO setting of 51200 (ISO 25600 during movie recordings), the Z 50 should perform strongly in low-light conditions.
For portrait photography, the included eye-detection Auto Focus feature will assist photographers by tracking and locking focus onto a subject's eyes to ensure sharper images.
Burst images can be captured at up to 11 frames per second, or 30 frames per second at 8 megapixels in silent mode.
4K UHD video capture is included at up to 30p, as well as slow-motion capture at 1080/120p.
Nikon is also using a brand new 1,120mAh battery called the EN-EL25 that promises nearly 300 shots on a charge.
A magnesium alloy has been adopted by Nikon in the construction of the Z 50 to ensure a very strong and durable body.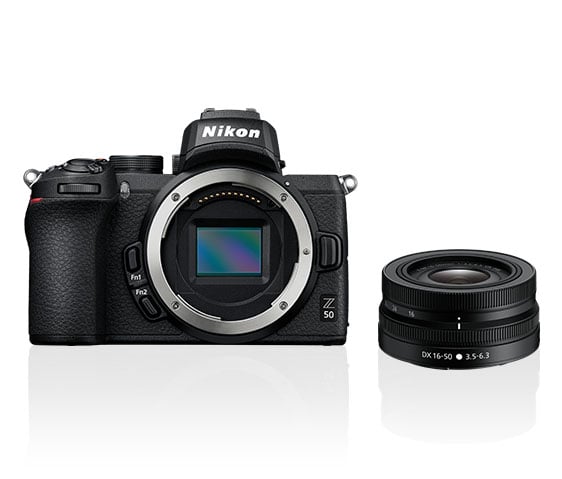 Lenses, Photography, Camera, Nikon, lens, aps-c, photographer, Z 50, Z series, Crop Sensor, low light, ISO
---