Optus Sport has retained exclusive rights for the Premier League, with this season the first time a 5G mobile network will be used to stream a LIVE league match globally. Some commentators claim the deal will be a big win for Fetch TV.
The news comes as the telco seeks to distance itself from its 'Floptus' image, following significant buffering and streaming problems with prior sport and World Cup events.
For the first time, Optus Sport will be the exclusive provider of every LIVE Premier League match this season, following four years of broadcasting the event.
"Having the Australian rights to show every single match of the Premier League exclusively live is an enormous opportunity for Optus Sport," claims Optus' Head of TV and Content, Corin Dimopoulos.
"Our suite of exclusively live premium sport content, which also includes the UEFA Champions League and UEFA Europa League, notably increases with the renewal of the Premier League this season."
The telco is also introducing a $10 Optus Sport Add On for existing prepaid mobile customers.
The offer gives prepaid mobile customers access to Optus Sport premium content for up to 28 days.
The telco expects this offer, plus its extended UEFA Champions League, UEFA Europa League, UEFA Euro 2020 Championships rights, to drive strong customer growth.
Optus Sport is currently available as an optional extra on selected Optus plans for no extra cost, with ineligible customers and non-Optus users gaining an Optus Sport subscription for $14.99/month.
Viewers can watch Optus Sport on their big-screens via Fetch TV, Apple TV, Apple Airplay, Chromecast, Amazon Fire TV or Xbox, or on their tablet, mobile, desktop or laptop devices.
The news heralds Optus Sports' biggest twelve months ever, with the Premier League making a highly-anticipated return on August 10 (Liverpool v Norwich City).
In another first, Optus Sport is also making all 380 games available on-demand this season, including mini matches.
Optus' world-first 5G Premier League streaming comes as the telco continues to roll-out its 5G mobile network – currently only available in limited areas, however, a significant step-up in streaming tech.
"Making the Premier League available on Optus Sport through 5G is a world first," claims Optus VP, TV, Content & Product Development, Clive Dickens.
"This will be the first of many 5G initiatives we will take at Optus."
Despite a flurry of prior user complaints, Optus Sports claims 2018-29 was its most successful season, breaking many customer engagement and viewing records.
Optus Sport asserts its subscribing account base is now more than 700,000.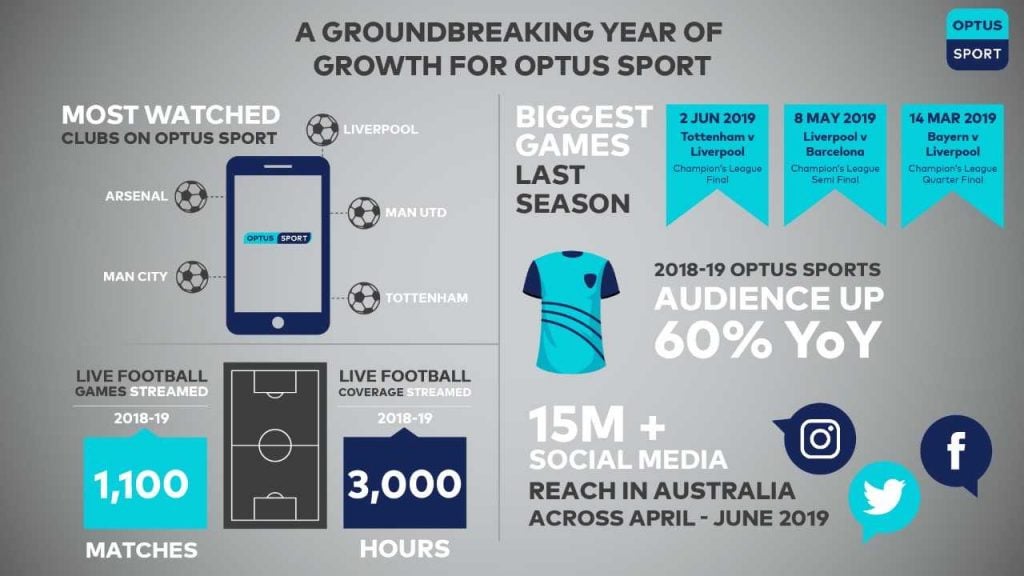 ---