Qualcomm has debuted its first dedicated augmented reality (AR) and virtual reality (VR) chip – the 'XR1'. Whilst Qualcomm chips have been used in AR/VR devices for years, hardware has largely been considered re-purposed phone processors.
The new XR1 chip claims to make manufacturing 'entry-level' AR/VR products even cheaper – products which will reportedly launch by early 2019.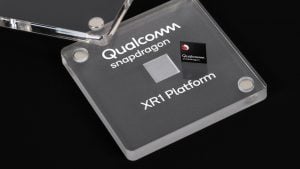 The company's flagship phone processor, the Snapdragon 845, is still considered a more robust chip for augmented and virtual reality.
Qualcomm advises the new 'XR1' is built for base-level, simple devices rather than immersive gaming.
The new XR1 claims to support 4K 360-degree display (60fps), plus voice control support with "simple controllers" offering six degrees of freedom.
Commentators expect Qualcomm to release more powerful XR chips, for more intensive AR/VR experiences over time.
---