Samsung has a new N950 soundbar and it's not just any soundbar because this soundbar is the first to be jointly developed with Harman Kardon one of the world's leading sound brands that was acquired by Samsung last year and when you fire it up you realise that this bar delivers a lot more than any past Samsung soundbar no more so then when you want clarity listening to dialogue.
With 4K pass-through this soundbar delivers 7.1.4 and 5.1.2 cinematic sound. It includes both Dolby ATMOS and DTS:X compatible and 32-bit upscaling.
And if you are looking for a premium sound offering that is as good as any traditional 7.1 home theatre system, so you may want to wait a couple of weeks till this top end offering goes on sale in Australia.
The $1,995 N950 has been designed in partnership with sound engineers from Harman and the global Samsung sound labs in California and it's as good as any home cinema sound offering including $10,000 + systems which is a big statement for any sound offering especially a soundbar that is significantly smaller than most 7.1 home theatre systems.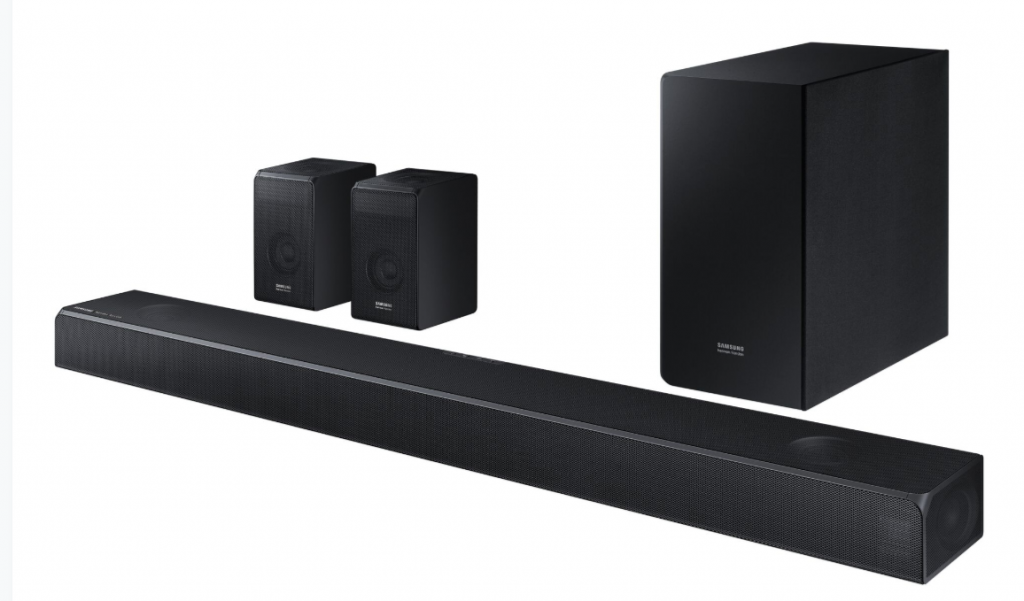 In fact, I was sitting in the private cinema of Universal movies when I first heard this new Samsung Harman Kardon offering and it was hard to accept that it was the new vN950 soundbar doing all the work as there was no difference from the big Dolby Atmos kit you get at your local cinema.
To really hear what this bar delivers I hooked it up to a 4K UHD Philips TV running 4K content from Netflix and a Blu-ray player, I did this as opposed to hooking it up to a Samsung TV as this is a soundbar you buy to go with any TV not just a Samsung model.
However, when it comes to Alexa and using the Smart Thing app for voice commands it will not work with a none Samsung TV which I believe is a big mistake as most soundbars are designed to work with almost any TV.
Samsung are looking at a fix for this and it could result in the release of a smart wireless hub which allows 'Smart Things' such as the Samsung N950 soundbar to communicate with other products in a wireless network.
With the all new N950 set up was a breeze though you may need some help as the subwoofer and the soundbar are not light.
In fact, the speaker bar weighs in at 8.8 kilo and the sub at 9.6 kilo.
We tested two connection options HDMI ARC (Audio Return Channel) and via an optical connection.
The first thing that you notice is that this soundbar delivers upward firing sound, it's designed to reflect sound off a ceiling as opposed only being fired direct at you.
Sound vibrations travel in a wave pattern, and because sound can move through the air and over or past solids, it makes a lot of sense to distribute sound by pointing them straight up to a ceiling so that what you hear is the downward wave as well as the forward wave the objective being that you are the object that the sound has to reach at its optimum output.
Out of the box there is a soundbar, subwoofer and two rear speakers the 7.1.4 soundbar also supports both Dolby Atmos and DTS:X audio formats.
In all there are 17 speakers, built into the soundbar including upward and side-firing ones on either end of the soundbar which are supported by dedicated amplifiers, a wide range tweeter, a subwoofer, and in the case of the N950, two wireless rear speakers.
The first thing you notice is the clarity of the audio, you can clearly hear the dialogue which we have struggled with, with some soundbars including the Sonos Playbar and the new Sonos Beam.
In fact, I took to using Bluetooth headphones connected to a TV because of problems associated with some soundbars however with this soundbar, the headphones can be put away.
It should be noted that the additional wireless speakers, which require their own power source, are able to communicate with the soundbar via a dedicated Wi-Fi module in the device. All you do is connect power to the rears and hold the upward button the remote that comes with. Make sure your remote is set to BT pairing.
The Samsung N950 soundbar is supported by two wirelessly-connected rear speakers which kicked in when we hit BT pairing and in car chase scenes for example, the sound effects are impressive and the dialogue still clear.
Bluetooth connectivity is also available for those who want to use the device to stream music for a dinner party, morning chill outs or for a party.
You are supposed to be able to access content by using Samsung's SmartThings app or through Amazon Alexa however this was a lot harder than setting up the system to get optimum sound. After following the manual, we suddenly discovered that you had to connect it via a Samsung TV to get this feature working.
Each soundbar can play Hi-Res HD Audio, with UHQ 32-bit audio upscaling functionality providing room-filling sound regardless of the source.
At the back of this bar are two HDMI in ports and one HDMI Out port, one Optical In port, 4K pass-through and ARC (audio relay channel) support.
Samsung's N950 has been priced at $1,999 RRP, while the N850, which packs 13 speakers in total, will set you back $1,499 RRP. The N950 and N850 will be available from mid-August and will replace the K950.
Conclusion
Before you think that this is an expensive soundbar, remember that you are not comparing it to your traditional soundbars that are out there. This soundbar delivers the same sound experience as would a $5,000 to $10,000 home theatre kit. In fact, the combination of this soundbar and an all new Samsung Q8 65" TV is going to set you back less than most home theatre combo's.
It's easy to set up, works from one remote and delivers the best in home theatre sound from a soundbar that's packed with hidden audio technology. The fact that the name Harman Kardon is on this device speaks volumes as to the expertise that has gone into designing and building this N950 soundbar.
Overall Rating – 8.5/10
Performance – 10/10
Value – 9/10
Design 10/10
Communication – 5/10
General Features
• Total Power512W
• Number of Channel7.1.4 Ch
• Number of Speaker17
• Frequency Range34Hz~17kHz
Speaker
• Speaker TypeSealed Enclosure
• Subwoofer Type ( Active / Passive / Wireless, Bulit-in )Wireless
• Subwoofer Enclosure TypeBass Reflex
• Subwoofer Driver Size8 inch
• Center SpeakerYes
• Up-firing SpeakerYes
• Side-firing SpeakerYes
Audio Feature
• Surround Sound Expansion (Virtual Surround Sound)Yes
• Dolby DigitalDolby 5.1ch / Dolby DD+
• DolbyDolby True HD
• Dolby AtmosDolby Atmos
• DTS-XYes
• DTS Digital SurroundDTS 5.1ch
• DTS HDYes
• Number of Sound Modes (DSP)3
• Sound ModesSSE,Standard,Smart
• Game ModeNo
• UHQ 32bit AudioYes
• Wireless Rear Speaker IncludedYes
• Auto Sound ModeYes
• Wide Range TweeterYes
• Distortion CancellingNo
• Hole Array TechnologyNo
---