Samsung has finally launched their $499 360-degree camera in Australia however the chances are you'll have a tough time nabbing one with retailers telling SmartHouse that there is only "limited supply".
The Korean Company has also launched a site where you can upload your videos. The site is called Samsung VR.
The Gear 360 has a small electronic viewfinder for plotting out your VR footage, plus buttons for powering the cam off and on and quickly switching its recording mode.
It pairs to a Galaxy S7 and S7 Edge via Bluetooth for remote control feature, video previewing, rendering, and automatic syncing through a partner Gear 360 app.
There's a PC program, too, for more in-depth editing.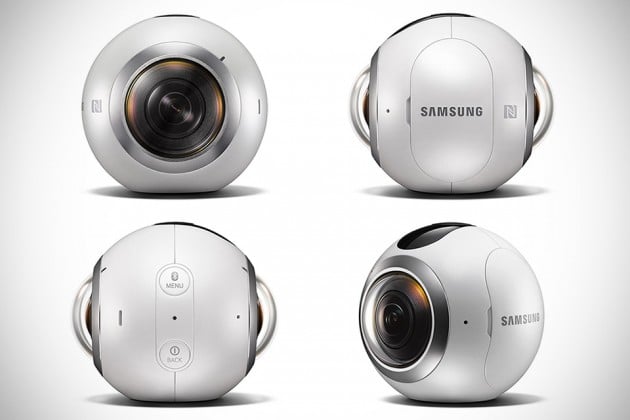 Both of the Gear 360's lenses sport Bright Lens F2.0 apertures and are capable of capturing individual, 195-degree wide angle vids and pics for those situations when 360-degree video isn't convenient.
The Gear 360 also boasts respectable internals besides: a 1,350mAh removable battery that lasts roughly 2 hours on a charge; a MicroSD card slot capable of supporting cards up to 128GB in size, enough for up to 7 hours of video at the highest resolution; a Micro USB charging port, a dust- and water-resistant exterior (up to IP53); and a universal camera mount that attaches to the included tripod.
Unlike some 360-degree camera makers Samsung is a bit ahead of the curve when making 360-degree videos viewable. While you can view them with a Gear VR headset, there's also a dedicated Android app if you're on the go – or don't feel like strapping a headset on.
Samsung is naturally limiting the app to its devices, but claims it now offers an 'end to end' solution for VR.
To coincide with the Gear 360's launch, Samsung is set to take the wraps off Samsung Creators, a program that aims to spur indie creatives to produce VR video.
It'll include free, instructional courses on 360-degree video techniques.
"Samsung Gear 360 will change the way Australians capture and share their experiences. It extends the possibilities of immersive content to give people the power to film and edit their very own 360-degree videos and watch it with Gear VR," said Prasad Gokhale, Vice President – IT & Mobile – Samsung Electronics Australia.
"We want to make virtual reality easy and accessible for Australians and see Gear 360 as a way to open up a new world for people seeking an incredibly immersive experience with beautifully well-crafted hardware and software," he added.
---