Following a global unveiling in New York early this year, Samsung Australia has today launched its 2018 suite of TVs, featuring new additions to its 'ultra-thin' flagship QLED and UHD range, whilst debuting 'Ambient Mode' and 'One Clear Connection'.
Samsung asserts its 2018 range caters to increasing Australian demand for large screen TVs, with several models sized 75-inches and above.
The new range will land in Australian stores on April 23rd – (full pricing below).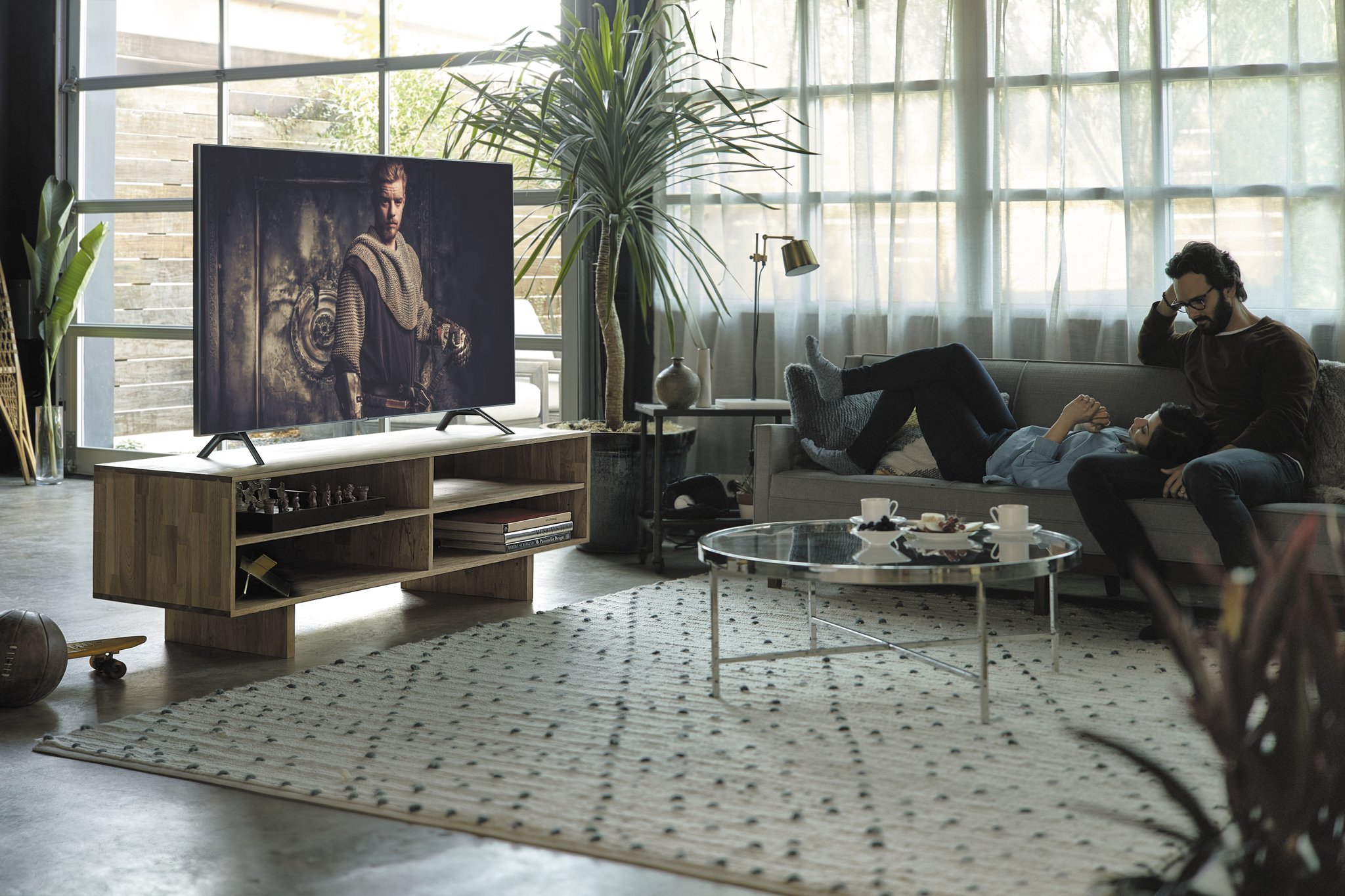 Concerning image quality, Samsung's 2018 QLED TVs come with a 10 Year 'No Screen Burn Guarantee', courtesy of the television's 'Quantum Dots' technology.
On selected models, Samsung has debuted 'One Clear Connection', which transmits both power and data through one Teflon 'transparent coloured' cable.
For Samsung, it's the first time a TV can transmit both AV high capacity data and power in a singular TV cable.
New to Samsung's QLED TV range is 'Ambient Mode', which displays a suite of information (e.g. weather, family photos or artwork) when not in use.
Ambient Mode also detects the colour/pattern of an adjacent wall, and via the SmartThings app can display an image which makes the TV seem as though a transparent screen.
Samsung claims 'Ambient Mode' forgoes the need for consumers to have a "plain, black screen" when not watching content.
The feature also detects when people are a room, and through syncing with mobile signals, can activate or deactivate content as people enter/leave.
Hass Mahdi, Samsung Electronics Australia Head of AV, claims the 2018 TV range reflects Australian's changing consumer behaviour:
"The way Australians watch and use their TVs is changing and we've responded with a lineup that reflects their lifestyle, personal style and viewing habits"
"We continue to deliver on picture quality whilst recognising that Aussies want technology that works around them and their passions, whether they are watching sports, movies or gaming"
"With Ambient Mode you can instantly transform the TV into a functioning screen that matches its surroundings. With the latest in Samsung's picture quality meaning you no longer need a big room to own one, we also know that Australians are looking for larger TVs. Aussies can now get closer to the action without distraction."
Samsung's new QLED and Premium UHD TVs are compatible with HDR10+ content, which claims to optimise display according to the film director's intention.
Specific to the new 'Q9F' and 'Q8F', Samsung has incorporated 'Direct Full Array' technology for what is claimed to provide "deep blacks and reduced screen reflection", courtesy of "precision controlled" LEDs.
All of Samsung's 2018 TV ranges connect to other Samsung devices with the SmartThings app, and feature its Smart Hub which integrates with several popular TV streaming apps (e.g. Amazon Prime Video, Netflix, YouTube etc).
---