Samsung has introduced Ballie – a robot that could be rolling around your home in the future, and may even replace the need for a pet.
The device is a small ball-shaped robot intended to be the robot you talk to every day to get things done. Samsung says Ballie utilises AI to be a security robot, a fitness assistant, and is set to be especially helpful for retirees who need assistance.
In an onstage keynote demo, Ballie followed Samsung consumer electronics division CEO H.S. Kim on the stage by rolling around, seemingly using the camera to track Kim as he walked across the stage.
Ballie also gave cute little robotic chimes in response to a couple of commands from Kim, and even rolled right into Kim's hands when he called for it.
The device was unrolled after Samsung took centre stage at CES2020 claiming it's all about future gear from robot companions and AI to new health capabilities, which deliver services such as home-based virtual cardiac rehabilitation solutions to advanced security when using Samsung products. It was a bit of everything.
A promotional video aired shortly after the demo, revealing a bigger vision for Ballie, which could someday make it the butler you always wanted.
It can close the blinds in its owner's home, turn on the TV so that the house's dog could have something to watch, as well as summon a robot-like vacuum to help clean the house when out.
"Samsung is working on some seriously advanced stuff in what's described as an 'Age Of Experience', where hardware and software are married together to create personalised experiences, which make life more convenient, more enjoyable and more meaningful," Kim said.
"Future Samsung technology will transform how we care for ourselves and our family, how we can customise our homes to meet our individual needs, and how we can build safer, more sustainable intelligent cities."
Next up, Sebastian Seung, Executive Vice-President and Chief Research Scientist at Samsung, showed how a room could be transformed with a screen like its MicroLED display – a convergence of software, AI, IoT and hardware.
Dr. Federico Casalegno spoke next and emphasised that smart rooms can provide boundless experiences.
"A screen is not a product – it's your window to the world, allowing you to instantly connect to your loved ones and friends as if they are in the same room. People can see and experience almost everything in the world and even the unknown world through the screen," Casalegno said.
Samsung then revealed its advances in intelligent robotics, AI, 5G and edge computing, with a glimpse into the not-so-distant future in which these technologies will come together to offer richer, more adaptive experiences for consumers.
At the core of Samsung's human-centred vision is personalised care, enhancing the health and wellbeing of consumers by satisfying their individual needs.
Elaborating on Ballie, Seung explained that its On-Device AI capabilities enable it to be a fitness assistant and a mobile interface, which seeks solutions for people's changing needs. It does all this while maintaining stringent data protection and privacy standards.
"We believe AI is the future of personalised care. We see on-device AI as central to truly personalised experiences. On-device AI puts you in control of your information and protects your privacy, while still delivering the power of personalisation," Seung continued.
The virtual cardiac rehabilitation solution pairs a Samsung smartwatch with a smartphone via Bluetooth. Samsung's Heart Wise application sends reminders to the patient to exercise, collects activity data and continuously displays the patient's heart rate during workouts.
This data is automatically uploaded via the smartphone to the patient's chart so that clinicians, case managers and physical therapists can track the patient's progress and engage with them accordingly.
This is what Facebook has been doing for several years.
The program enables users to partake in cardiac rehabilitation at home without taking time out of their everyday lives to travel to a hospital or medical clinic. The positive results of the home-based cardiac rehabilitation program were published in the New England Journal of Medicine (NEJM) Catalyst last year.
Going forward, Samsung will continue to develop human-centric healthcare solutions that cater to the unique needs of the individuals who rely on them.
After a while it was down to food and cooking. Samsung talked about the evolution of the modern culinary journey where appliances become cooking partners – a personal chef, nutritionist and shopping assistant rolled into one.
Samsung claims that intelligent and innovative technology can customise the entire food experience for consumers – from thoughtful recipe suggestions. to meal planning tailored to personal preferences and what's on-hand, to seamless grocery shopping, delivery and cooking.
Samsung also demonstrated how the combination of 5G, edge computing and AI will transform the urban transportation experience.
Emily Becher, Senior Vice-President and head of Samsung NEXT Global, shared the company's vision to lead the new era of vehicles, with 5G technologies enabling Vehicle-to-Everything communication, which will seamlessly connect cars to the rest of the city.
"Smart cities combined with 5G will be able to provide experiences unimaginable to communities a few years ago. Faster and easier digital connection with each other will strengthen our sense of community and create entirely new forms of interaction," Becher added.
Concluding his keynote address, Kim stressed that the company is focused on using technology to create a better place for all. He highlighted three key areas of importance for the company going forward – security and privacy, technology for good, and citizenship.
Kim made clear that as an industry leader, the company's commitment to data security and personal privacy will not waver, and that the protection of security and privacy will be a top priority as technology advances.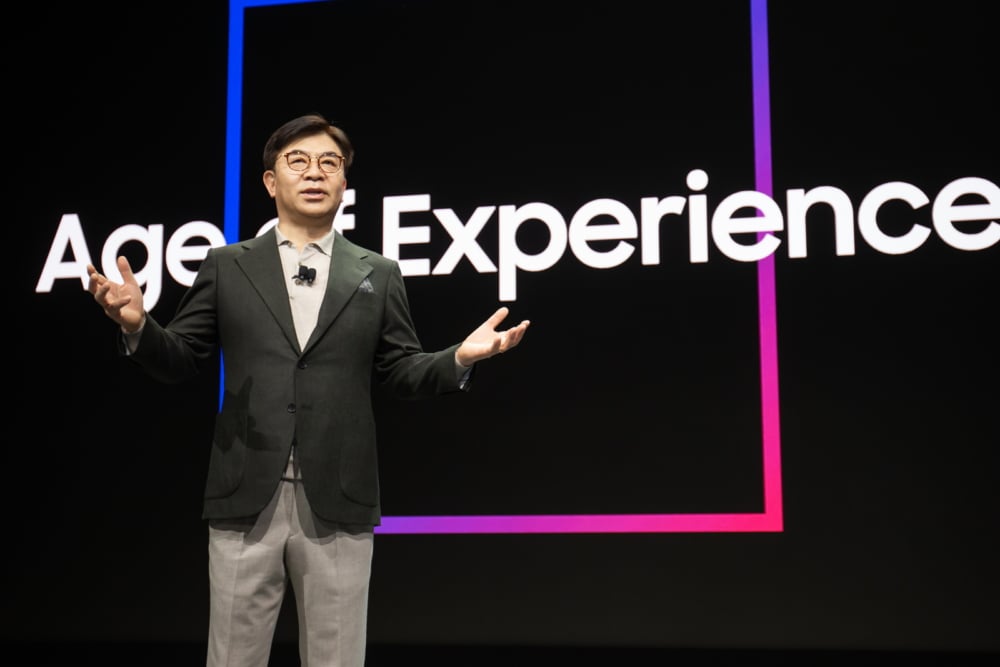 ---