Samsung has all but confirmed its revolutionary foldable phone will make an appearance at their upcoming Unpacked event on 20 February with a new teaser video.
The event will also introduce Samsung's latest flagship — and anniversary model — the Samsung Galaxy S10 and a 5G model handset.
Samsung's latest teaser features Korean text that bends and curves, before the words "The Future Unfolds" roll out.
This isn't the first time Samsung has used a Korean ad for their international audience, it decked out Paris with a prominent ad that read "Unfolding the Future" and "February 20th" in Korean.
It's the biggest hint so far that we are definitely going to see the phone, but as Samsung ramp up marketing for the foldable device, it's leading many to believe that the phone could hit the market earlier than first expected.
Samsung has been tightlipped over the foldable phone, releasing numerous teasers, but few specifications, including the unconfirmed Andoird OS that Google and Samsung made specifically for this device.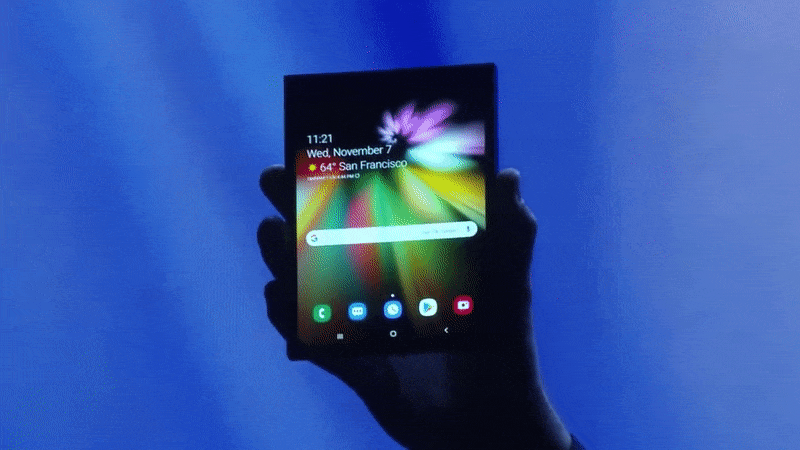 On stage at the Samsung Developer Conference in November 2018, Samsung unveiled a workable prototype version of the foldable device — hinted to be called Galaxy X or Galaxy F — that featured a tablet looking device that folds to a workable smartphone.
However, the lights were dimmed as soon as it was brought on stage, so no one got a good look at what the device looks like.
The foldable phone was brought out by SVP of mobile product marketing, Justin Denison, who claimed that Samsung would be able to start mass production of the Infinity Flex Display in a "matter of months"
And while Samsung previously stated that the device is not a "gimmick", it has released no statement or reasoning why the regular consumer would purchase the foldable device over a tablet or their latest flagship.
Samsung Unpacked event will be held on 20 February 2019 and is expected to launch the Galaxy S10 range of smartphones, the Galaxy Watch Active and Galaxy Buds.
---