Samsung Electronics has announced its first curved gaming monitor that is compatible with NVIDIA G-Sync married with a supercharged 240Hz refresh rate for seamless visuals, set to ship globally in Q3 2019 from US$499.
The new 27-inch CRG5 (C27RG5) gaming monitor was unveiled yesterday at E3 by eSports host Sean Plott and Samsung Electronics Marketing Manager Dean Delserro.
Previous to this monitor, Samsung's displays were compatible with AMD FreeSync, this display now eliminates potential screen tearing with a PC running GTX 10-series or RTX 20-series NVIDIA graphics card.
However, as it offers a low-latency mode and quick pixel response time, it is still a solid pick for laptops running AMD Radeon graphics.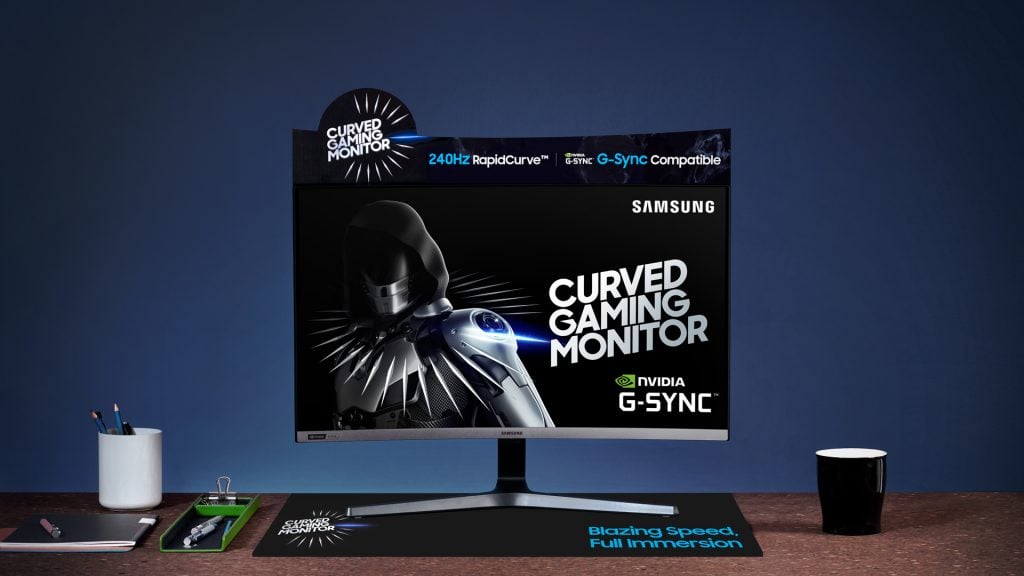 The 27-inch CRG5 boasts slim bezels surrounding the curved 1500R 1920 x 1080 full HD VA panel display — no IPS-level colours here — and 3,000:1 contrast ratio.
It offers various connection ports including two HDMI connectors, a DisplayPort and a USB-A.
Gamers can select a pre-set display option via an on-screen digital menu or create up to three customised profiles for a personalised gaming experience.
"Samsung's delivering next-level gaming experiences with innovative curved displays using the latest graphics technology to immerse gamers like never before," said Seog-gi Kim, Executive Vice President of the Visual Display Business at Samsung Electronics. "Combining a 240Hz refresh rate with NVIDIA G-SYNC compatibility in Samsung's new CRG5 curved gaming monitor gives gamers advanced performance for the most graphic-intense games."
The new monitor will join Samsung's other curved gaming displays including the 49″ Super Ultra-wide Curved QLED Gaming Monitor (CHG90) currently on sale in Australia for $1,799.
The CRG5 is slated for a July launch and with a starting price well-above other NVIDIA-compatible displays, like Acer's ED273, we will have to wait until its launch to see if it's worth its price point.
Acer, samsung, Australia, Nvidia, E3, gaming monitor, pc gaming, crg5, curved gaming monitor, e3 2019, notebook gaming, nvidia g-sync
---