Sonos who in the past have sold expensive 16bit speakers is now trying to lure consumers into buying a $1,000 amplifier, to make their speakers sound better, we rounded off the dollar.
The problem is that Sonos speakers are far from unique, in fact many audiophiles consider their speakers and soundbars at the bottom end of the network speaker chain today, especially as several speaker manufacturers are now delivering 24-bit sound bars and superior networked speakers a category that Sonos pioneered and dominated for several years before they got hit by a wave of competition.
A classic example is Denon Heos who have an excellent amp on sale at $899 a saving of $100. In addition, this amp works with the 24Bit Sonos Heos speakers and it has Google Voice and can easily connect to the same streaming services as the Sonos speakers.
What Sonos will tell you is that you can configure Sonos as mono, stereo and surround sound systems and you can stream music from more than 45 services locally.
They even brag about being able to stream Tidal and Deezer Elite.
Tidal streams at high quality ­bitrates and Deezer Elite FLAC delivers files at more than 1400kbps. What they don't tell you is that the Sonos app or OS will not stream 24Bit content which is also available from both Tidal and Deezer.
So, what is the difference between the 16bit Sonos offering and a 24Bit speaker offering from several of their competitors. Let me explain the difference.
A song encoded at 320 kilobits/second is going to sound a whole lot better than a song with a 128kbps bitrate, right?
Bit depth is essentially the number of bits you have to contain a piece of audio–the range from the imperceptible whispers of virtually no sound to the loudest noise a piece of audio gear can crank out.
The difference between 16-bit audio and 24-bit audio isn't just a matter of eight bits, it's the fact that there is a heap more data in a file and this delivers superior sound.
With 16 bit audio you get 65,536 possible levels. With 24 bit, you actually get 16,777,216 levels.
Today the new Samsung Galaxy S10+, The Huawei P30 and the new Apple devices all deliver 24Bit audio playback.
So do Denon Heos and Bluesound networked speakers along with offerings from Yamaha, Bose, and several other brands.
So why would a Sonos customer go out and buy a Sonos Amp especially as several brands are already selling cheaper amps and several brands are selling amps that deliver superior capability than the new Sonos Amp.
According to Sonos a key selling point is that their amp delivers several streaming music sources, AirPlay 2, and voice assistants.
Both Denon and Marantz are selling an Amp for speakers from as low as $695.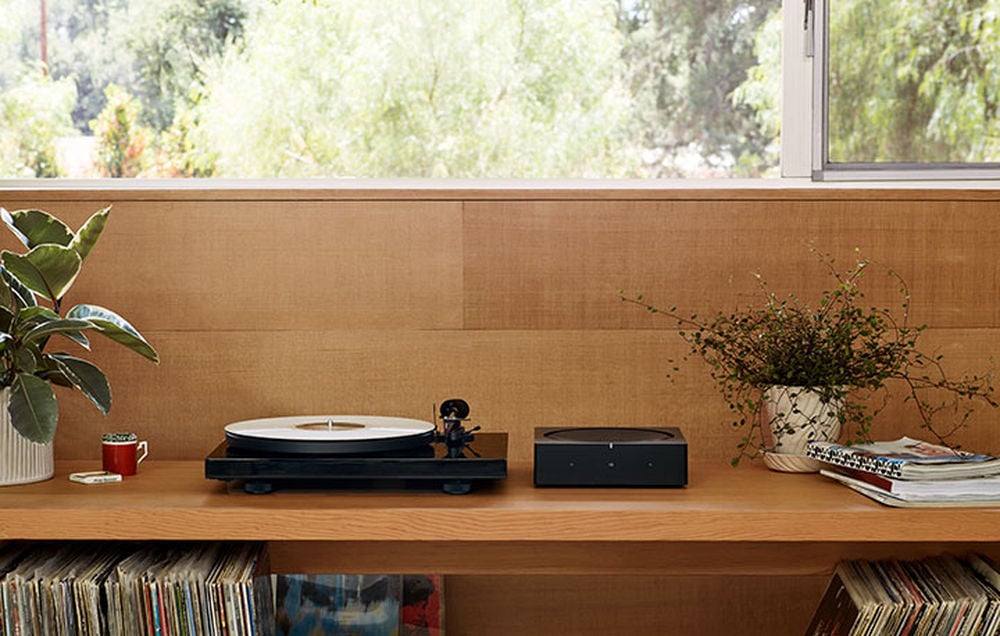 Sonos claims that their amp supports two Sonos One, Play:1, Play:5 as rear speakers and a Sonos Sub to get 4.1 sound. It decodes up to 5.1.
They are even spruiking that you may have to buy two amps so that you can control the front speakers and another to control the rear speakers making them 4.1.
Each Sonos amp communicates with the other over Wi-Fi 2.4Ghz or Ethernet, and that is where things can get interesting. The US Company claims that there is "great demand for rack mounting these to cover multiple speakers in different rooms and provide multi-room or party mode".
Really, when did you last visit someone who had a rack mounted sound system hooked up to cheap Sonos speakers.
The Sonos Amp decodes 3.1 signals by sending them to the L or R channel which Sonos is calling a phantom centre channel.
There is also RCA stereo so that you can hook up a connection to a turntable however to get this operational you will need a pre amp and an analogue sound source which starts to make the Sonos amp a tad complex.
One thing the Sonos amp is, it's small at 21.69 cm square x 6.4 cm x 2.1kg.
The big standout at this stage is that the amp does deliver Dolby Atmos, Hi-Res support and no centre channel but this is going to be bog standard in several amps and receivers this year.
The Amp supports 5.1 decoding but not spatial up-firing channels, e.g. 5.1.2 or 7.1.4 which comes back to my argument that this is an amp to boost the poor performance of Sonos speakers.
Don't get me wrong Sonos speakers use to be good and cutting edge, but they have been left behind by superior speakers from the likes of Yamaha and their superior soundbar and Bluesound and Denon Heos who are now delivering 24-bit, audio that sounds clearer and sharper than 16-bit audio delivered by an ageing Sonos speakers.
The other big issue is that you have to use the Sonos proprietary OS and this is a real pain as it constantly drops out. I have owned several Sonos speakers and soundbars and they are all now in a box gathering dust in my garage.
I like a lot of music lovers have moved on to superior networked sound systems such as the Denon Heos soundbar and a Bluesound soundbar for a second TV.
I am also using in my home office a paired pair of Amazon Echo speakers with the Amazon sub-woofer and the sound is excellent.
What's interesting is that main stream retailers such as Harvey Norman and JB Hi Fi who were responsible for the early success of Sonos are not stocking the Sonos Amp, but they are stocking other sound bar amp.
I think this is telling as these retailers don't miss out on selling what they believe will be a successful product.
---