Transparent Sound, a high-end speaker company out of Stockholm, Sweden, has just released its transparent speaker available online for US$550.
Initially realised as a Kickstarter project, the original Big Black Transparent Speaker was much larger and went for an opening backing price of US$620, with the original Small White Transparent Speaker costing US$255.
Both speakers are currently available through the Transparent Speaker website, with the Small speaker priced at US$550 and the original for US$1100, unfortunately, there are currently no local resellers in Australia for Transparent Sound.
The 'seethrough' speaker boasts twin 3-inch drivers, powered by 15-watt Class D amplification, with 'True Wireless Pairing' via Bluetooth for simultaneous playback on two Transparent Speakers.
In order 'to keep the crisp look' Transparent Sound recommends customers to use the included white cotton gloves when handling the unit during installation.
The Transparent Speaker can either be positioned on a table-top or wall-mounted via the supplied bracket.
The speaker, "designed to last forever", is constructed from a single 'uni-frame' piece of aluminium and tempered glass panels.
Constructed with modular design in mind, the Transparent Speaker is meant to be upgraded over time through a sustainable 'closed-loop system' to ensure the internals of the speaker last forever with upgradable and swappable components offered as technology develops.
Included in the design of the unit is the "toaster slot" compartment designed for 'various wireless upgrades'.
Located at the rear of the unit, the compartment is large enough to hold an Amazon Echo Dot, a Google Chromecast Audio jack or Home Mini.
UK Magazine Elle Decoration called the Transparent Speaker the best luxury Christmas gift.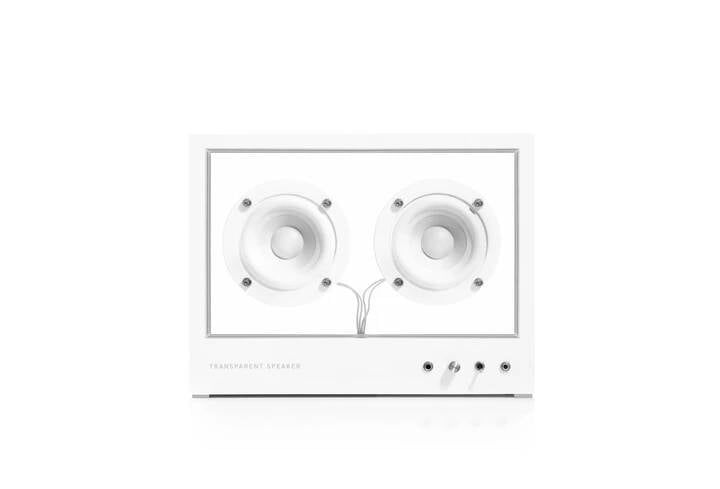 ---