Danish-based Jabra has continued to expand its wireless headphones portfolio, with the Elite 45e (A$179) pledging superior audio quality for calls, and music playback.
Harnessing Jabra's advanced two-way microphone technology, the Elite 45e doesn't mess around – it's a pleasure to use whilst taking/making phone calls, and conference calling.
I even used the Elite 45e as my sole headset and microphone whilst being interviewed in an online webinar. Not only could I hear questions clearly, the final video recording played back my voice perfectly.
Jabra's claims that the Elite 45e enhances your voice, not those around you, definitely proved true.
The microphone is kept comfortably a few inches from my neck, not grabbed and pressed to my mouth like other sub-par products. Despite this, the Elite 45e had no problems clearly capturing my voice, free from unnecessary ambient sound.
Concerning music playback (e.g. enjoyed over lunch with tea) quality is excellent. Audio is clear, robust and with distinct noise isolation.
If you crave a sense of privacy during the sacred lunch hour, I highly recommend the Elite 45e.
Noise isolation and excellent audio quality provide total immersion when watching YouTube/Netflix videos, or listening to music.
For the fussy, audio is customisable via an equaliser, however, I found pre-set settings more than satisfactory.
As mentioned, I consider the Elite 45e the perfect 'work' headphones. In truth, they're more a hybrid headset.
They're thin and lightweight enough to stay curled around your shoulders all day, seamlessly swapping between music playback, and taking/making calls.
Suitability for work is further enhanced by a long-lasting 8 hour battery life. For heavy users, it's easy to leave the product charging at your computer at the end of the day.
For lunch-time users, the product lasts over a week, if used around an hour a day. The headphones sound off a 'low battery alert' when placed in the ear.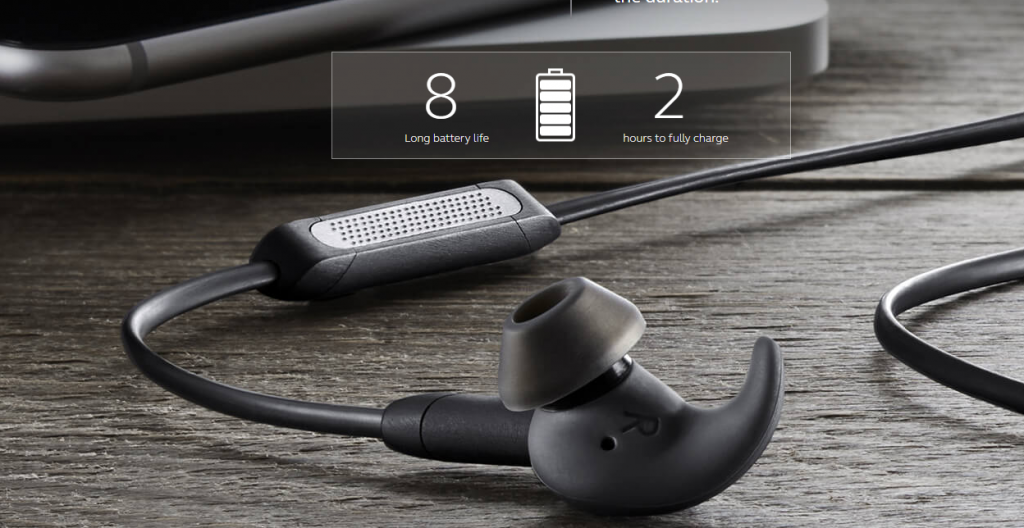 Functionality is further enhanced via one-touch access to smart voice assistants including; Amazon Alexa, Apple's Siri and Google Assistant.
My version featured champagne gold metallic accents, which is a welcome element of style.
I'll even be as bold to say, the noise isolation and audio quality the Elite 45e delivers rivals more expensive over-ear headphones.
Consequently, the Elite 45e renders itself very work-friendly, offering the audio quality of some over-ear headphones, but in a super slim [and less antisocial] build.
Trialling the product for over a month, it's excellent to know this extremely versatile product is under $200.
Jabra asserts the Elite 45e incorporates a durable, lightweight form factor, despite housing a sophisticated microphone and audio delivery system.
Its durability – IP54-rated water and dust resistant –  and slim build is instantly recognisable. The headphones and its wire feel robust to the touch, yet very lightweight.
Despite its memory wire neck band, there were some design aspects which rendered the Elite 45e not a faultless fit for me.
As a petite female, the wire is far too long for my neck. The rigid wire – whilst flexible – keeps gathering in uncomfortable places, and I'm always forced to wear a jacket, tucking excess wire under my collar.
Unfortunately, you cannot adjust the length of the wire, which means there's a large loop dangling from my neck and ears – fine for use at work, but not the most conducive to use on the weekend around friends.
Jabra has included several ear tips in the box, but unfortunately even the smallest is somewhat loose for me. Whilst fine when walking (e.g. picking up your morning coffee, or catching the train), I personally would not be able to use them during a work out.
It's these design elements which weigh down what is otherwise an excellent product, at an excellent price.
If you're looking for a durable pair of headphones which will serve you well at work (e.g. conference calling, taking calls, listening to music/videos) and during your lunch hour, I highly recommend the Elite 45e.
At under $200, they're a highly compelling offering for Monday – Friday, with excellent audio and microphone components.
Value: 9.5/10
Performance: 9/10
Design: 7/10
Overall: 8.5/10
---