Following lobbyists pushing for the US government to alleviate trade ban against Huawei, Microsoft has returned the MateBook to its online stores, including Australia.
Weeks ago, Microsoft quietly removed the notebook range, which runs Windows, from its online store in the wake of the US executive order to crack down on foreign technology.
The software giant remained silent over whether it would restrict Huawei from obtaining Windows licenses for its notebook range.
The Huawei Matebook X Pro and MateBook 13″ have both returned to Microsoft's Australian store for $2,599 and $1,799 respectively.
Microsoft finally broke its silence in a statement: "We have been evaluating, and will continue to respond to, the many business, technical and regulatory complexities stemming from the recent addition of Huawei to the U.S. Department of Commerce's Export Administration Regulations Entity List."
"As a result, we are resuming the sale of existing inventory of Huawei devices at Microsoft Store."
Foreign reports are noticing "out of stock" on certain models, both notebooks appear to be available here.
How long they will be available is now in question as Microsoft is selling "existing inventory" only.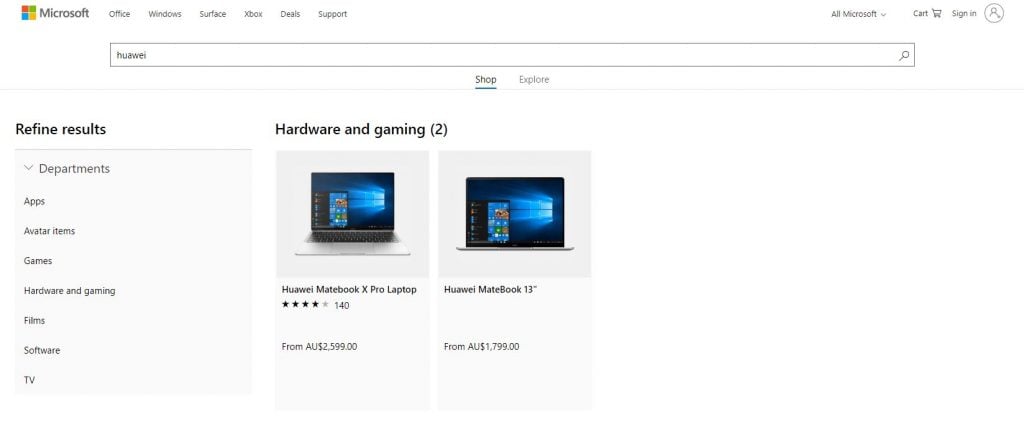 The Information reported that Huawei has cancelled the planned launch of its new MateBook notebook, unveiled at MWC 2019, as a direct result of the of US sanctions against the company.
In addition to Windows OS, Huawei relies on Intel processors for its MateBook range.
Sales of Huawei's smartphones are slumping all over the world as consumers are put off the brand by the effects of the trade sanctions including the loss of Android updates.
---