Samsung Electronics will unveil its new range of smart home appliances at IFA 2019, including the next-gen POWERstick Jet vacuum cleaner, AirDresser and the Cube air purifier.
Currently, the new products are only set for release in European markets.
According to Samsung, each device offers a unique and practical solution to the many challenges of modern urban lifestyles, like clothing contamination, air pollution and dust.
"Consumers have high expectations, seeking dynamic performance even from basic home appliances and our mission is to meet those expectations directly," said Taehwan Hwang, Corporate VP of Europe & CIS Product Management Group at Samsung.
POWERstick Jet Vacuum Cleaner
The POWERstick Jet targets consumer demand for suction power from cordless vacuum cleaners to match that of corded units.
The new cordless vac uses Samsung's Digital Inverter Motor and Jet Cyclone System to generate up to 200W of suction power, which results in stronger cleaning and maximised convenience.
Underlining Samsung's commitment to health and safety, it also developed the 5-layer HEPA filtration system for the POWERstick Jet, which Samsung claims can capture 99.999% of dust particles and allergens.
In the first stage of the filtration process, the main cyclone separates large dust particles, before trapping it in another metal mesh grille filter. The Jet Cyclone serves as a second cyclone and works together with a washable micro filter to capture finer dust particles.
The POWERstick Jet also comes with a removable high-capacity battery, and all parts and filters are completely washable.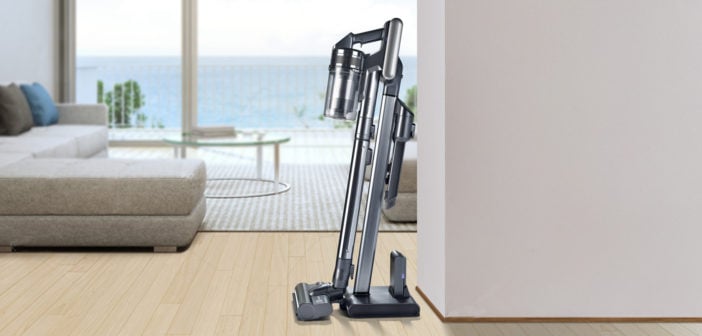 AirDresser Freshner
AirDresser introduces a new standard of clothing care that addresses consumer needs for a more efficient method for refreshing clothes, especially those made from delicate materials.
It freshens clothes with its Jet Air system and Air Hangers, using powerful jets of air to loosen and remove engrained dust, even from deep within the fabric.
The Jet Steam feature sanitises garments gently to get rid of bacteria, while Heatpump Drying also provides delicate care for clothes by drying them at a low temperature for reduced shrinking and heat damage.
It also features a Deodorising Filter to capture and remove odours, while preventing them from building up inside the unit. It's Dust Filter keeps the inside of the compartment clean by capturing dust left floating in the air.
Cube AX9500 Air Purifier
Samsung's Cube AX9500 is the company's first air purifier model to launch in the European market and features the world's first Wind-Free air purification system.
The Cube doesn't have an air draft or makes loud noises and comes with a 3-layered purification system which purifies and deodorises air.
The unit features a cube-shaped, modular design, and multiple units can be paired in one room for extra power or separated to purify two rooms at the same time.
---