Images found on a secret part of Apple's web site ahead of their big iPhone launch on September 12 have revealed what's in store.
At this event, held at the Steve Jobs Theatre in Silicon Valley Apple will outline their new iPhone line-up and strategy for 2019 as well as new Macs, Apple Watches, and iPad Pros for debut this year.
Each time Apple has unveiled a new Apple Watch model, it has done so alongside a new iPhone, while Mac and iPad updates are sometimes unveiled separately. The new Apple Watch models will include larger screens that cover nearly the entire front of the watch.
At this stage it looks like Apple is planning three new models that look like the iPhone X, including a refresh to the flagship device launch this time last year.
All three devices including a cheap model designed to compete with threating Chinese brands will have facial recognition and edge-to-edge screens like the iPhone X, but the two premium models will have OLED screens, while the cheaper phone will use LCD technology, Bloomberg News has reported.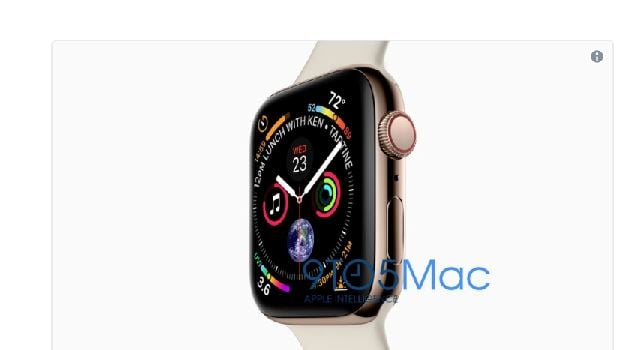 According to 9to5Mac Apple will also launch a new Apple Watch. The images corroborate earlier reports that the new high-end devices would come in two sizes, feature a gold colour option and use the name iPhone Xs. The image of the Watch shows a new face that displays more information and a bigger display.
Seth Weintraub, who owns 9to5Mac, said the photos were spotted on a hidden portion of Apple's website and are actual photos of the products to be announced in September.
Apple goes to extensive lengths to keep its products under wrap with some now questioning whether these leaks are deliberate.
Last quarter, the iPhone generated almost $30 billion in sales. Apple will collect more than $61 billion in revenue in the September quarter, the period when the new iPhones are likely to go on sale, according to data on analysts' estimates compiled by Bloomberg.
On Thursday, Warren Buffett said he slightly increased his stake in Apple recently, adding that the iPhone is "enormously under-priced" for the utility it offers users. Apple shares rose 1.5 percent to $226.37 on Thursday afternoon in New York.
The Apple Watch isn't an iPhone-like revenue generator but is part of the company's growing Other Products segment. That division, which also includes AirPods, the Apple TV, HomePod, Beats headphones, and iPad accessories, generated a $3.7 billion in revenue last quarter.
Apple is also working on two new iPad Pro models with slimmer bezels and facial recognition along with a new low-cost MacBook laptop and a Mac mini desktop geared toward professionals, Bloomberg News has reported.
---