After previously failing to make a mark in the Australian TV market, Bang & Olufsen is attempting a comeback with the reveal of the Beovision Harmony TV with rotating panel speakers. But will customers fork $30K for a television from an audio brand?
The Danish company warned last month that earnings and revenue are on track to decline in 2019, dropping three-year targets that had already been previously cut.
Bloomberg reports that despite shares in the company falling by about a quarter, and stock falling as much as 27% to a two-year low, Bang & Olufsen remain certain that there is a market for their high-end televisions.
The Harmony is the latest collaboration with LG Electronics, following the BeoVision Eclipse in 2017.
It features the same 77-inch OLED screen found on the LG C9 television, but which has an RRP of $15,999 — just over half of the Harmony RRP.
When not in the screen rests in its bracket either on the floor or mounted on a wall and once turned on, the screen rises up and the speakers roll out.
The speakers are the main feature here, as Bang & Olufsen are an audio brand first and foremost.
The rotating speakers offer a three-channel, fully active DSP-based sound system with a 7.1 surround sound decoder and can connect with up to either Beolab speakers.
They are available in either an oak and aluminium or "grey melange" fabric and aluminium front panel.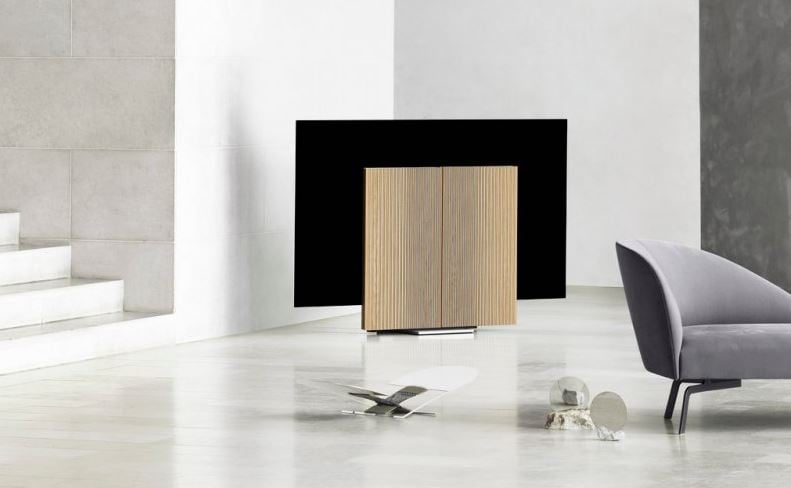 The statement television is integrated with Apple AirPlay 2 and has Chromecast and Bluetooth built in.
It also is built on LG's webOS 4.5 platform, so consumers can access Netflix, Amazon, and YouTube.
Following in the footsteps of LG's rollable OLED and Samsung's Frame, Bang & Olufsen is aiming to convert the television into a design piece as opposed to a black box in the corner.
However, it's unclear if a stylish statement like this is enough to tempt consumers to spend close to $30K to enjoy in their home.
The Beovision Harmony is estimated to retail from 18,500 EUR (approx. $29,237 AUD) and is slated to be available in Bang & Olufsen stores starting October 2019. Specific local availability is yet to be confirmed.
---