As a professional writer and journalist, Logitech's 'most ergonomic mouse yet' – the wireless MX Vertical (A$169.95) – immediately caught my attention. Gimmick or game-changer?
For many in my industry, finger and palm strain is an occupational right of passage, however, I'm constantly seeking to mitigate this risk.
Thus far, I've found few ergonomically-inclined PC periphery products to comfortably deliver daily and long-term benefits (e.g. those strange ergonomic keyboards).
As someone who interacts with their mouse for well over eight hours a day, I've noticed some hand discomfort over time.
I'd been scoping for a replacement office mouse for several months, and am pleased to say Logitech's 'MX Vertical' is now a permanent and well-loved fixture.
Design
Logitech claims the MX Vertical mouse fuses a "science-driven design" with the "elevated performance" of its MX Series – simply put, this is their best yet.
With an elevated design that is a stark deviation from traditional mouses, the MX Vertical pledges to reduce muscle strain, decrease wrist pressure and improve posture.
From day one, I immediately felt benefits across all three claims.
The mouse's elevated design does require some initial adjustment, make no mistake. I had not used a mouse with this design form in some time, and it took 20 or so minutes to fully adjust.
That being said, once I adjusted, going back to a traditional mouse instantly felt comparatively uncomfortable, as though promoting muscle strain.
The MX Vertical is designed to foster a "natural handshake position", which claims to reduce muscle strain by 10%.
With a 57-degree vertical angle, the device places less pressure on your wrist and corrects hand posture.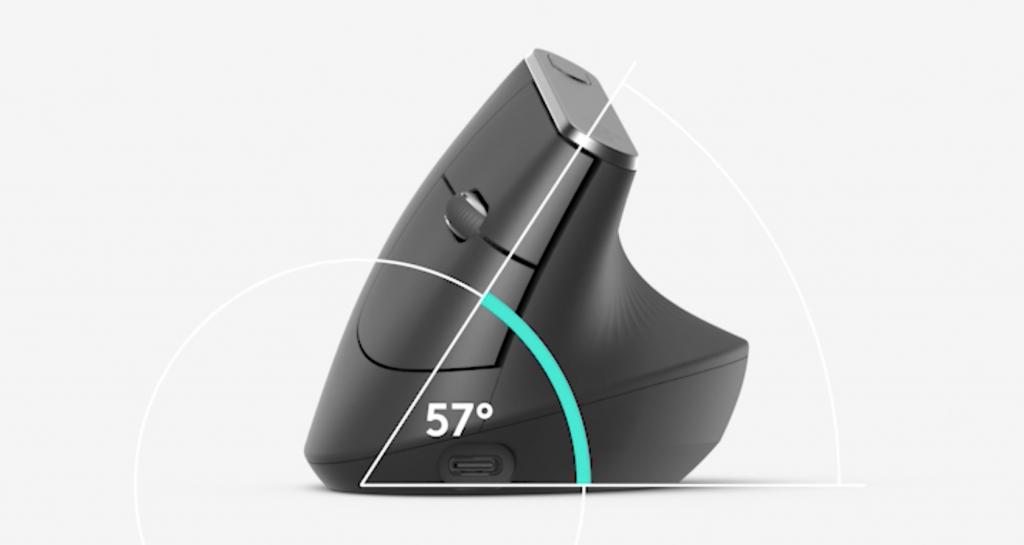 Clicker buttons are well-placed, and easily accessible in this elevated position despite my petite hands.
The 'handshake position' sees a user's thumb rest comfortably on the elongated thumb rest, without feeling uncomfortable or spread out.
Claims of a "science-driven design" seem extremely valid, with the mouse clearly developed to incur the least amount of palm muscle pressure.
Concerning movement and mouse accuracy, I have no qualms.
Both right and left click are easily accessible, and perform as desired, as does the scroller.
With advanced optical tracking, a 4,000 DPI high-precision sensor, and a dedicated cursor switch, the mouse claims to deliver four times less hand movement – further reducing muscle and hand fatigue.
I immediately noticed a significant reduction in hand movement, which is especially beneficial to those with small arms.
Catering to the finicky, users can also customise cursor speed and accuracy via Logitech Options software.
For added functionality – and especially useful to a journalist – the mouse incorporates two easily accessible 'back' and 'forward' buttons for web browsing.
The Logitech Options software also enables button customisation, plus other setting adjustment.
The wireless mouse is connected via a USB receiver, and claims to stay powered for up to four months on a full-charge. I haven't had the product for that long, so can't comment.
The device can also be connected via Bluetooth, which is beneficial for those with few USB ports on their PC/laptop. Functionality did not seem to be noticably impaired.
Using the included USB-C charging cable, Logitech asserts a one-minute charge delivers three hours of usage.
Catering to what I believe is the modern office worker, the MX Vertical allows users to seamlessly transition across three paired devices (e.g. a monitor, and two laptops), moving the cursor across each screen via Logitech Flow.
It's among my favourite aspects of this ergonomic wireless mouse, further validating it's [high] price tag.
One con to note, the mouse does not feature a 'hidden compartment' to store it's USB receiver – often found in the underside of many traditional wireless mouses.
Whilst it may not need to be said, this is very much an office/work related product, and does not necessarily translate quite as well for passionate gamers.  (Perhaps seek a specifically designed gaming mouse for that).
Overall
Like any non-standard product, it's natural the MX Vertical mouse won't be for everyone – some will love it [like me], others probably not so much.
That being said, the immediate and long-term benefits fostered, should encourage most people to at least give it a try in-store.
Though the MX Vertical requires some initial adjustment, I no longer worry about mouse-related wrist and palm strains, and am overall more comfortable on my computer.
Yes, A$169.95 is a heft amount of money for a mouse, however, daily usage and overall benefits personally render it worth that cost.
For me, Logitech's MX Vertical is a game-changing office device, noticeably reducing my work-related hand strain.
No longer do I get home after work, and feel ad hoc hand pressure whilst navigating the internet in my spare time.
I have recommended the product to other office-bound friends, especially those who've recently had wrist operations or previous strains.
If you're health-conscious and a heavy computer/laptop user, I'd also recommend visiting a nearby stockist to decide if it's for you too.
RATING: 9/10
---