Panasonic Australia has today unveiled its first Hi-Fi smart speaker with Google Assistant. Further innovating seemingly 'old' technology, the Japanese company has also debuted its new 2018 Blu-ray range.
The new SC-GA10 smart speaker features Google Assistant's full suite of voice commands, and includes streaming via Spotify, Google Play Music and more.
Panasonic's SC-GA10 will launch in Australia in May 2018 for A$379.
Aaron Waters, Panasonic Audio & Video Product Marketing Manager, claims the new SC-GA10 delivers sound "any music buff would be impressed with", whilst supporting Google's "entire ecosystem".
Multi-room audio functionality enables the SC-GA10 to connect and control multiple speakers via Chromecast – e.g. Panasonic's new HC2020 micro hi-fi system (as below).
The SC-GA10 incorporates two 20mm Soft Dome Tweeters, claimed to cover a full 180-degree range for high-frequency directional sounds.
An 8cm woofer with Dual Voice Coil claims to suppress acoustic impedance, for a "more robust and impressive bass". A 'Meshed Diaphragm with Wide Role Rubber' endeavours to reduce distortion for low-frequency sound.
The new SC-GA10 smart speaker is also compatible with Panasonic's Music Control app, which includes music control, stereo pairing and EQ setting adjustment. The Japanese company intends to further expand the capabilities of its Music Control app.
2018 Micro Hi-Fi Systems
Congruent with the launch of its new smart speaker, Panasonic has debuted three new micro hi-fi systems with built-in Chromecast – the SC-HC2020, SC-HC302, SC-HC200.
The products support both 'old' and 'new' audio media, including; CD, radio, Bluetooth connection, and Spotify and Deezer streaming. Multi-room speaker connectivity is also permitted with Chromecast compatible speakers.
Panasonic's new micro hi-fi systems also offer voice control, when combined with a Google Assistant supported speaker.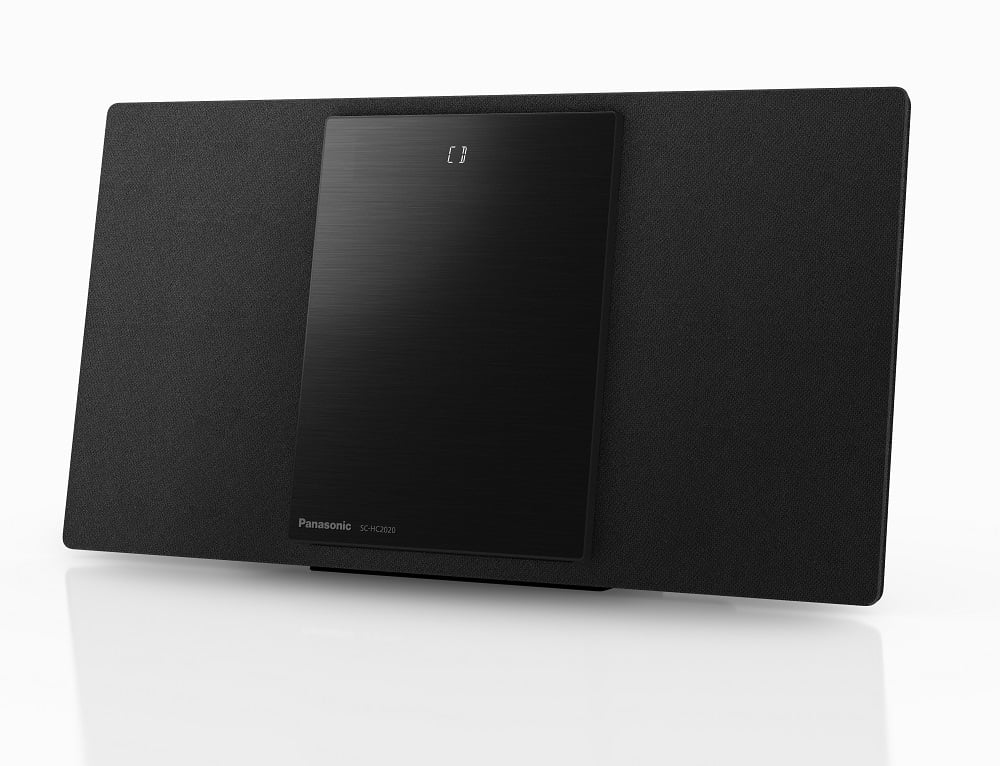 2018 Mini Soundbar
Catering to compact homes and smaller apartments, Panasonic has also debuted its new SC-HTB250 mini soundbar, which is designed to connect with its new FX700 and FX600 TVs. Courtesy of its compact size, the soundbar can easily fit between the TV's pedestal legs.
An accompanying wireless sub-woofer can be placed vertically or horizontally, for further enhanced sound.
Further product information is available on Panasonic's website here.
Australian availability and pricing below:
2018 Panasonic Blue-ray Range
Proving local demand for quality Blu-ray players still exists, Panasonic has further expanded its portfolio with four new models. The Japanese company affirms its has the "industry's widest 4K Ultra HD Blu-ray range".
Just like its new 2018 OLED TVs, Panasonic's 2018 Blu-ray players incorporate its upgraded HCX (Hollywood Cinema Experience) processor. Selected models support HDR10+ and Dolby Vision.
All 2018 Blu-ray players are Ultra HD Premium certified, and rolling out later this year will feature voice control interactivity with Google Assistant and Amazon's Alexa.
Interacting with a digital assistant, users can fast forward, rewind and more simply using their voice.
The new Blu-ray players will roll-out in Australia after June/July this year, starting from A$329 (prices below).
The new "reference class" UB9000 will land locally near Christmas, and will feature Panasonic's highest ever Blu-ray picture and sound quality.
Panasonic affirms last year notched "strong" performace for its Blu-ray division, and the new 4K Ultra HD models will expand on this success.
All 2018 models will feature original 4K Direct Chroma Upscaling, to convert Full HD to 4K for striking display resolution and colours.
Three HDR adjustment functions are also deployed on the new devices – HDR Optimiser, HDR Adjustment and HDR to SDR conversion.
The devices' image processing technologies claims to deliver HDR with higher definition, alongside 'tone mapping' for optimal brightness adjustment.
'Dynamic Range Conversion' claims to produce images with better brightness and quality than regular Blu-ray disc images on a non-HDR TV.
All of Panasonic's 2018 Blu-ray players support high-resolution audio, and 4K video playback for streaming services such as Netflix and YouTube.
The forthcoming "reference class" UB9000 claims to "raise the bar" for AV enthusiasts, with THX certification and surround sound just as filmmakers intended.
Further product information is available on Panasonic's website here.
Australian pricing and availability below:
---